WILP M.Tech – Courses, Fees, Admission, Eligibility, Duration and More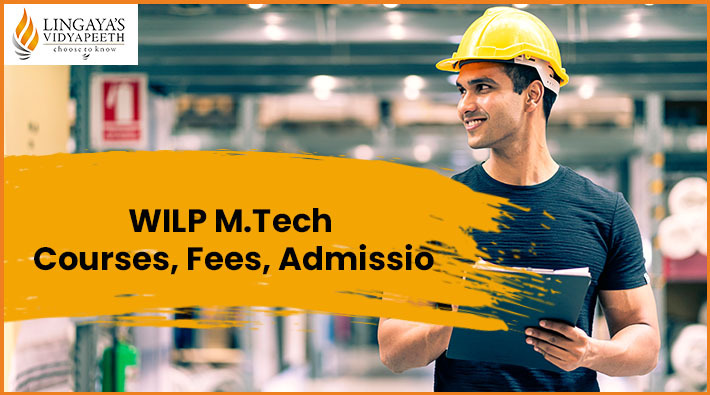 MTech is a postgraduate engineering course that can be completed in two years. The Work Integrated Learning Program is for working professionals who want to excel in their engineering skills. Many universities offer MTech for working professionals. One of the top institutions among them is Lingayas University. 
The minimum eligibility of this program at Lingayas Vidyapeeth is a BE or BTech degree passed with at least 50% marks in aggregate. Candidates can easily register themselves using the official website of Lingayas University. The classes will be organized on weekends or on holidays. 
MTech for working professionals is made to offer technical knowledge in the engineering domain with leadership quality. MTech WILP from Lingayas University is one of the best and highly preferred programs out there that offers quality education along with flexibility of learning. Candidates can easily access learning resources right from the LMS and online content offered by the university. Candidates can access their study content in the form of video, audio, media and other forms of learning resources. 
The course consists of 4 semesters in two years of duration. The program of MTech is delivered in four different specializations namely: Civil Engineering, ECE Engineering, Computer Science Engineering and Mechanical Engineering. For more details, candidates need to read the complete prospectus of the course that is available on the webpage of Lingayas. 
Know other things about the course like eligibility criteria, fee, course curriculum, syllabus and admission guidelines below:
Main Highlights of the Programme
The MTech WILP degree course consists of 4 different semesters with multiple classes held on weekends and holidays: 
Candidates can easily access various types of learning resources in multiple forms like video lectures, text, and audio using a Learning Management System (LMS.)

The performance of the candidates is assessed at regular intervals through various processes like assignments, quizzes, mid and end-semester examinations etc.

The assessment score and the mark sheet of the same are also shared with the candidates so that they can improve their performance. 

In two years of courses, you can get a perfect platform to enrich your engineering skills for developing a bright career. 

With an MTech degree (WILP), candidates can easily learn to build up technical skills to advance their professional value. 

The course helps the candidates to develop and implement technological solutions for a bright future.
Accreditation for MTech WILP
Lingayas Vidyapeeth is one of the top engineering colleges in delhi ncr that provides quality education in many disciplines and courses. MTech WILP (working professionals) is one of the top degree courses that prepare working engineers to escalate their careers. Candidates in large numbers after completing their bachelor's degree in BE or BTech choose this course for upskilling as it has an industry-oriented and detailed curriculum. 
The Lingayas University (Lingayas Vidyapeeth) is completely approved and affiliated with the University Grants Commission (UGC), AICTE and NAAC. These three are the premier bodies that offer good value to the institution.
Specializations of MTech WILP
There are 4 specializations offered in MTech WILP degree courses at Lingaya's.  The program is prepared to cater for the demanding needs of working professionals for their bright future in the form of promotions on their job profiles. 
The 4 specializations offered in MTech degree course are: 
Fee for the MTech for Working People Degree Program
The tuition and registration fee are the same for all the specializations of MTech WILP. Candidates need to check the complete fee structure using the official website of the varsity. We have provided the necessary details regarding the fee structure of MTech:
Tuition Fee: INR 40,000 (per semester)

Examination Fee: INR 2500 (Per semester)

Registration: INR 2500 (One-time payment)
Duration of M.Tech WILP
The complete course duration of the program is 2 years with four semesters. Candidates need to complete their respective syllabus and the courses to obtain the degree.
Eligibility Criteria for MTech WILP
The eligibility criteria are very necessary to know for every student. The main points related to eligibility for the MTech program for working professionals are provided below:
BE or BTech passed with at least 50% marks in aggregate. 
Or 
B.Sc or M.Sc in Computer Science with 50% marks in aggregate
Or 
BCA/MCA with at least 50% marks in aggregate 
Note: Candidates should have cleared his/her last qualifying degree from a UGC-approved institution.
Age Bar
There is no age bar for taking admission to the MTech course of MTech. Candidates of any age group can register themselves using the official Lingayas Vidyapeeth website.
Who Should Enroll to MTech for Working Professionals?
For candidates who are already working somewhere in the engineering field and want to upgrade their position through a reliable and career-based program, MTech is one of the top career options out there. The varsity offers top-class infrastructure and educational resources through LMS and other modes like audio, video, etc. to facilitate candidates in a very planned and efficient manner. 
With the MTech WILP program, candidates can easily execute innovative technological solutions as the course curriculum includes up-to-date software and programs that make people industry-ready without letting them quit their current jobs. 
The registration and application procedure is very easy as candidates can easily get themselves enrolled using the official website of the varsity.
Course Curriculum of MTech WILP Degree Program
The complete course of MTech for Working professionals from Lingayas University consists of four semesters that can be completed in two years of duration. Every semester holds a specific set of subjects or topics that they need to cover within the stipulated time limit.
The semester-wise segregation of subjects and topics is provided below: 
| | |
| --- | --- |
| Semester 1 | Semester 2 |
| Project Control and Planning | Construction Economics and Finance |
| Quality Control and Safety in Construction | Bridges Design |
| Research Process and Methodology | Construction Materials |
| Civil Engineering Materials | Advanced Concrete Lab |
| Advanced Engineering Mathematics | Advanced Design of Steel Structures |
| Construction Materials Lab | Advanced Concrete Technology |
| | Minor Project |
| Semester 3 | Semester 4 |
| Departmental Elective 4 | Projects and Dissertations |
| Departmental Elective 5 | |
| Seminar 1 | |
| Dissertation 1 | |
| Advanced Engineering Geology  | |
| Construction and Maintenance Management | |
Application Procedure
First of all, candidates need to hit the weblink of Lingayas University which is lingayasvidyapeeth.edu.in 
Then, they need to hit the Apply Now link available at the top of the website. 
A new registration form will open and you need to fill in all the details carefully. 
After that, log in to your account using secured credentials and other information. 
Now, you need to fill in all the sections of the application form:
Personal details

Academic details

Fee payment 
Once you have paid the fee successfully, print the acknowledgement form for future reference.
Career Opportunities and Job Prospects After MTech WILP
There are many job opportunities after an MTech degree program. Candidates who are already working somewhere can enroll themselves in MTech WILP to make themselves good professionals in the engineering domain. Candidates can apply for private and government jobs both. Students in large numbers choose MTech in their preferred specialization to get promotions and career opportunities with a higher pay scale. 
There are many job opportunities that arise after the MTech WILP degree course. Some of them are:
Network planning engineer

Software Analyst

Technical Directors

R&D Software engineer

Sr. Mechanical Engineer

Computer engineer

Civil Engineer

Technical Directors and much more
The job opportunities will depend on the specialization you choose in your MTech program.
FAQs Related to MTech M.Tech WILP
Is Lingayas a good university for pursuing an MTech WILP degree from?
Yes, Lingayas Vidyapeeth provides top-class education from dedicated and hardworking teaching professionals. The Lingaya's WILP courses are UGC and AICTE-approved. You can easily take admission to the course using its official website.
Is MTech in Civil Engineering Specialization worth doing?
Yes, definitely. The specialization will prepare you for many career opportunities in the engineering sector including Civil engineering positions. Candidates after completing BE or BTech choose an MTech degree program. The degree is valid for higher learning and job opportunities.
How many semesters are there in MTech WILP?
There are four semesters you need to complete in the course of MTech for working professionals. The 4 semesters are spread across 2 years.
Can I get jobs after MTech for Working Professionals program?
Yes, there are many job opportunities arising in various sectors like government, PSU and private. Job opportunities after MTech are:
Service Engineer

R&D Software engineer

Technical Directors

Software Analysts

Network Planning Engineer
Does Lingayas Provide educational resources to complete the course?
Yes, Lingayas Vidyapeeth offers LMS and online educational resources that you can easily fetch right by logging in to your account. The learning materials are all carefully curated and developed to support the course curriculum.