WILP B.Tech (Courses, Fees, Admission) – Lingayas Vidyapeeth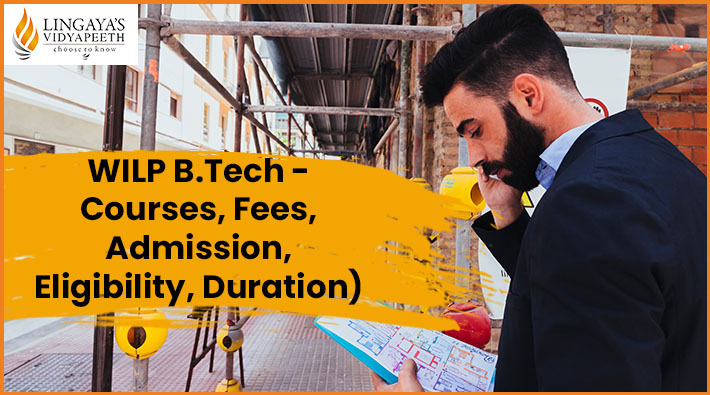 Are you thinking about completing your B.Tech without quitting your professional career? If yes, get enrolled in BTech for a Working Professional at Lingaya's University. It is one of the best private universities for BTech lateral entry courses in the country and is situated at Jasna Road, Faridabad, Haryana. The B.Tech here is a 3 years duration program and it is completely approved by the University Grants Commission (UGC), AICTE, and NAAC. 
This BTech for working professionals program is one of the highly preferred courses by the candidates of the new generation because they don't have more time to maintain a work-life balance. It is made for people who are already working somewhere and want to excel in their technical and engineering skills to promote themselves in their profile. 
The B.Tech course has been introduced as a Work-integrated Learning Program (WILP) to facilitate continuous enhancement of the technical expertise of students in order to meet the technical and innovative challenges of society in a very professional way. 
The course empowers candidates to gain good knowledge related to modern technology and advanced systems.
After completing the course, you can easily become a good engineer in the particular specialization that you have opted for. There are a total of 5 different specializations offered by the Lingayas Vidyapeeth under the BTech segment. One can check the course details, admission criteria, eligibility, and syllabus using the official website of the varsity.
Main Highlights of the Programme
The BTech degree course consists of 6 semesters with multiple classes held on weekends and on holidays.

Candidates can easily access various types of learning resources in multiple forms like video lectures, text, and audio using a Learning Management System (LMS.)

The performance of the candidates is assessed at regular intervals through various processes like assignments, quizzes, mid and end-semester examinations etc.

The assessment score and the mark sheet of the same are shared with the candidates so that they can improve their performance. 

With a B.Tech degree (WILP), candidates can easily learn to build up technical skills to advance their professional value. 

The course helps the candidates to develop and implement technological solutions for a bright future.
Accreditation of BTech for Working Professionals
Lingayas University is one of the top universities in the country that delivers quality education in various specializations and streams. The courses and the departments are completely approved by the University Grants Commission (UGC,)  All India Council for Technical Education (AICTE) and NAAC. 
The course curriculum is designed with the latest syllabus updates of the university and all the specializations are provided with a top-quality education.
Specializations of BTech WILP
There are a total of 5 specializations provided in BTech for Working Professionals. Students are requested to choose the one which suits their desire and skills. Here are they:
Fee for the Program
The fee is one of the most important aspects of every course or program. If we talk about BTech working professionals, then we find these details. You need to pay these every semester:
Tuition fee per semester fee: INR 40,000

Exam fee: INR 2500 

Time registration fee: INR 2500 (This fee is paid at the time of registration)
Duration of the Program
The complete duration of the BTech lateral entry course is of 3 years with six semesters. During this duration, candidates need to complete their courses and papers. The department of engineering provides a perfect platform to enrich their inner talent to become good professionals in the technical and engineering sector. Post completion of the course, you need to work on several projects and assignments that are crafted on the recent development in Engineering and Technology.
Eligibility Criteria for BTech (WILP) Working Professionals
The eligibility criteria for the BTech (WILP) are provided below:
Candidates should achieve at least 50% marks in aggregate in any of these courses at their last qualifying examinations:
Polytechnic Diploma (Minimum of 50% marks in aggregate)

Class 12th and BSc passed with 50% marks in aggregate 

Class 12th and BCA degree with 50% marks in aggregate

BTech/BE with at least 50% marks in aggregate
Age Bar for the Admission to BTech for Working Professionals
No age bar is prescribed for the candidates who want to take admissions in BTech WILP or Working Professionals.
Who can Enroll in a BTech for Working Professionals Course?
Ambitious and highly determined diploma engineers who are already employed somewhere and want to excel in their engineering skills can apply to this course.
Course Curriculum for BTech for Working Professionals
The BTech (Work Integrated Learning Program) is divided into six different semesters and the course duration is three years. In every semester, there is a specific set of subjects you need to complete during the course.
Read the semester-wise course details: 
Semester 1

Manufacturing processes

Math-3 (Numerical Methods)

Engineering Mechanics

Fluid Mechanics 

Thermodynamics

Industrial Management and Engineering Economics

Fluid Mechanics Lab

Semester 2

Strength of Material 

Applied Thermodynamics

Fluid Mechanics and Machine 

Machine Kinematics 

Applied Thermodynamics Lab

Strength of Material Lab

Machine Drawing

Semester 3

Machine Dynamics

Manufacturing Technology 

Transfer of Heat 

Solid Mechanics 

Design of Machine Elements 

Dynamics of Machine Lab

Manufacturing Technology Lab 

Heat Transfer Lab

Semester 4

Control and Instrument

Material Science

Machine Design-2

Elective-1

Elective-2

Elective-3

Control and Instrument Lab

Material Science Lab

Effective-1 Lab

Effective-2 Lab

Semester 5

Manufacturing and Automation 

Mechanical Vibrations 

Open Elective (Humanities)

Elective-3 Lab

Elective-4 Lab

Project-1

Semester 6

Online Mode (MOOC)

Internship 
Application Procedure
First of all, candidates need to hit the weblink of Lingayas University which is lingayasvidyapeeth.edu.in. 
Then, they need to hit the Apply Now link available at the top of the website. 
A new registration form will open and they need to fill in all the details carefully. 
After that, they must log in to their account using secured credentials and other information. 
Now, candidates need to fill in all the sections of the application form: 
Personal details

Academic details

Fee payment 
Once they have paid the fee successfully, they should print the acknowledgement form for future reference.
Career Opportunities and Job Prospects After BTech WILP
There are many job opportunities a candidate gets after completing their education at a reputed university like Lingaya's with a BTech degree. They can apply to both private and government sector jobs. You can easily go for higher education like MTech WILP without quitting your professional career. After holding a technical and engineering degree, you can become a good engineer and start your career as a trainee or fresher. There are many job opportunities in the engineering sector you can hold after the completion of your course. 
Some of the top career options after BTech for working professionals are:
Mechanical engineer

Mining engineer

Jr. Production Engineer

Robotics Engineer 

Communication and Electronics engineer etc. 
Your job profile will be based on the specialization you choose at the time of admission or registration.
FAQs Related to BTech WILP
What is a BTech Work-integrated Learning Program?
BTech WILP is a three-year bachelor's degree program that is also known as BTech for working professionals. You need to complete the course in a minimum of three years of duration. Candidates in large numbers choose this course as it prepares the candidates for good career scope in the engineering domain. You can continue pursuing your job alongside this course.
How many specializations are there in BTech WILP?
Candidates get a list of 5 specializations to choose from. The specializations are:
Civil Engineering 

Mechanical Engineering

Electronics and Communication Engineering

Computer Science Engineering 

Automobile and Mechanical Engineering
Which BTech for Working Professionals Specialization is Best to Pursue?
All the specializations are good in their place. You can take admission to Lingayas university for getting a quality education in the engineering domain. Students in large numbers choose a reliable and career-oriented specialization that offers top-class job opportunities to the students. 
The course of BTech WILP helps the candidates to pursue engineering degrees without quitting their professional careers.
What are the Jobs I can Grab After BTech WILP?
There are many job opportunities you can grab after completing the BTech course for working professionals. You can kick start your career with BTech for Working professionals and start your job as a junior engineer or trainee. 
The top job opportunities that arise after BTech are: 
Civil Engineer

Robotics engineer

Teacher

Electrical Engineer

Production Engineer

Automobile Engineer etc.
The job opportunities will be based on the specialization you choose at the time of admission.