What is the Full Form of M.Tech? Full Guide 2023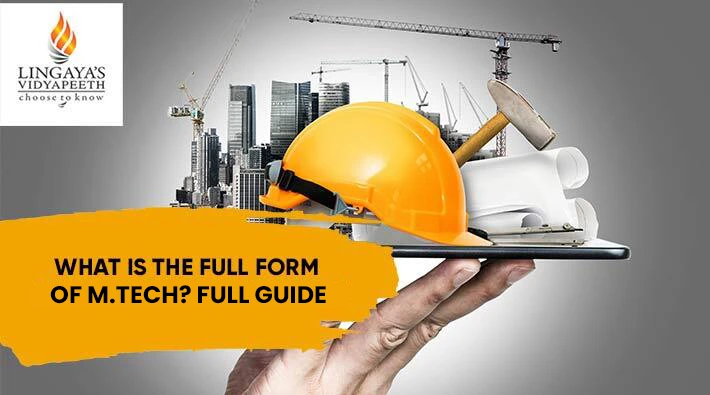 Master's of Technology is the full version of M.Tech. The programme offers a variety of specialities in a variety of subjects. Because of the specialities, the course is more diverse, resulting in more work opportunities. M.Tech stands for Masters of Technology. It is a course that focuses on the advanced study of science and technology. The focus of the course is engineering and information technology. It is a two-year postgraduate programme with four semesters. 
The course is available in both regular formats. Students with an M.Tech degree can work in both the private and public sectors. Students who have a strong interest in the subject of research and innovation are the ideal candidates for this course.
What are the Eligibility Criteria for M.Tech Programs In Delhi NCR?
As previously indicated, universities also offer working professionals programs. However, every student interested in applying to any university's M.Tech programme must meet certain standards.
The following are the necessary qualifications for a student to apply for the course:
Candidates must hold a bachelor's degree or its equivalent in any of the relevant fields.

Candidates must have achieved a minimum aggregate percentile that qualifies them for admission to the university.

Any student of any age is eligible to apply.
What is the average salary after the completion of M. Tech?
The job opportunities available after completing an M.Tech degree is incredible. The remuneration for freshers in the position is likewise not less than $50,000 each month. As one progresses deeper into the field, the packages continue to rise and expand. The field entails nothing less than a greater likelihood of success. Also Read: What is the Fee Structure for M Tech?
If you're pursuing a degree from a well-known university, many companies will visit for placement drives. If you choose the right university for you, your chances of landing a great job increase. As a result, choosing the right university for one's M.Tech. is one of the most important factors to consider.
What are the different types of M.Tech specializations?
There are various specializations when it comes to M.Tech. It offers a variety of exploring in different areas.
Some of the specializations of M.Tech are:
Aeronautical Engineering

Civil Engineering

Mechanical Engineering

Electrical Engineering

Chemical Engineering

Aerospace Engineering

Petroleum Engineering

Computer Engineering

Ceramic Engineering

Instrumentation Engineering
What is the famous university for M.Tech in Delhi NCR?
There are many universities for M.Tech situated in Delhi NCR, however, Lingayas Vidyapeeth turns out to be one of the finest. Lingaya's is a well established university initiated in the year 2009. It is located in Faridabad, Haryana and offers a wide range of courses and options in every spectrum.
While it comes to M.Tech, one can have a great deal of specialisations at Lingayas. The university is recognised and approved by the UGC and NAAC and therefore, the degree from here will hold utmost importance in the market. 
What are the Best Career Options After Completing M.Tech Program In Delhi NCR?
A M Tech degree will open doors to better opportunities in life. After completing an M.Tech, there are a variety of employment alternatives available that not only pay well but also provide opportunities to study and experience new things.
Let's take a look at some of the top employment opportunities available after completing your M.Tech
Software Engineer

Senior Engineer

Software Developer

Research Analyst

Maintenance Engineer

Machine Engineer

Project Manager

Planning Engineer

Program Analyst

Project Coordinator
What is the Course Duration of M Tech 2023?
A Master's in Technology, or M.Tech, is a two-year postgraduate degree in technology. After completing the B.Tech, a student can continue on to the M.Tech, which is a four-year programme that includes a variety of engineering subjects. You'll have a decent job in two years.
The course does not serve distance education. Universities with a good reputation and that offer the course are highly regarded.
As a result, students should be aware that the university offering M.Tech is well-known and has been approved and accredited with an A grade by the UGC and NAAC prior to applying. Students would benefit from conducting a comprehensive inquiry to determine which option is best for them.
What is the Fee Structure of M Tech Course In Delhi NCR?
The cost of each course is determined by the university that the student selects. And one of the most important elements to consider before enrolling in any university is to investigate the cost structure and see what fits your budget.
The typical fee structure for an M.Tech. programme ranges from INR 50, 000 to INR 2 lakhs. As we already know, the course lasts two years, thus the cost structure we're providing is the whole amount that any individual would require to study M.Tech. Also Read: What is the Syllabus in M.Tech?
As previously stated, the fee structure varies depending on the university and the specialization you choose. As a result, students must be specific about what they want to pursue and whether or not it fits into their budget.
What is M.Tech for Working Professionals?
There are many questions about distance learning options in the M.Tech programme. While we continue our research, there is one thing that every child should be aware of. The AICTE does not authorize distant learning for master's degrees in technology. As a result, it is no longer relevant, and it is no longer offered as a distant learning option by colleges.
Some postgraduate engineering and technology courses are not available online or via distance learning. Students will be unable to study it in this manner as a result. Furthermore, none of the specializations offer it if this is something you're interested in. As a result, no institution is allowed to offer a master's degree in distance learning technology.
Students should not apply since, due to the AICTE's lack of approval, the programme is no longer viable as a form of remote education. Because studying M.Tech via distance learning will not benefit students in the long run, enrolling in a regular programme is always preferable. Furthermore, we believe that enrolling in one of the many well-known and accredited M.Tech programmes available would be beneficial to students. As a result of the instruction, they will have numerous chances in the future, allowing them to pursue a more promising vocation than they previously had. 
Winding Up
Choosing the perfect professional path for you can be a difficult task for anyone. And it is at this point that the students must ensure that their interests and the areas in which they are stepping are equally matched. Before enrolling in any university or course, individuals should ensure that their research is extensive and well-done. It is critical to remember that determining what one wants to do with one's life is the first step toward happiness.
It is possible to choose the best college for oneself if sufficient research and attention is performed. Furthermore, working professionals who wish to learn while maintaining a busy schedule need not worry because there is a way out, and that is what we are assisting you with. Make sure you identify the ideal places for you and chose what best suits your objectives.