What Is the Average Salary of B Tech In India? – Guide 2023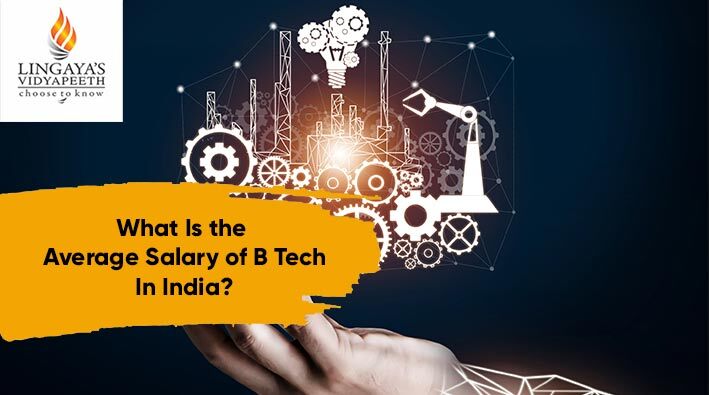 B.Tech (Bachelor of Technology) Lateral Entry is one of the most popular undergraduate degree degrees among the students who have done a diploma and are now working professionals. The degree provides you with the perfect pathway to a great start of your career as you will have a bachelor's degree in technology which is in great demand. 
The pass out students have a plethora of specializations to pursue but everyone has the same question. What happens when you finish engineering? What should I do when I finish my B.Tech? What jobs are available after completing a B.Tech? And the most important question of all is what is the average salary of B Tech in India? Many engineering students in their final year of B.Tech are confronted with these questions. 
A Career Overview of B Tech Career
After finishing the B.Tech programme, students could then begin to study (GATE) or contemplate pursuing a profession in the sector of their choice. Although M.Tech is a typical degree option after finishing a B.Tech programme, numerous students nowadays choose to pursue an MBA after finishing their B. Tech graduate degree. Additional possibilities for candidates include working for a PSU (Public Sector Undertaking), sitting for the Civil Services entrance exam, or entering a private firm. Let us go through each of these in further depth. Also Read: Which is Top B Tech Lateral Entry Colleges In Delhi NCR
In Detail Career opportunity of B Tech Diploma Holders
Top-tier private-sector jobs: After finishing the B Tech for Diploma Holders, a pass-out student can join the top private firms that hire engineers. Engineers' job descriptions in various divisions and specialisations are samples of the opportunities available after working for a top private company. Companies that recruit engineering graduates include TATA, Reliance, Honda, Hero, Maruti, Wipro, and L&T.
Government Sector: Government engineer jobs are available in a variety of government departments, including power boards, PWD, CPWD, Indian Railways, and various post-engineering positions.
Join the PSU: Engineers of speciality areas are required by public sector organisations like NTPC, ONGC, BHEL, and others. As a corollary, engineers in these domains are in high demand, and B tech Lateral Entry students will have a bright future.
What is the average salary of a B.Tech India 2023? 
In three years, the Bachelor of Technology (B.Tech) programme provides a number of specializations for the Diploma holders. The B.Tech Lateral Entry is even more appealing because of the high pay possibilities and attractive career profiles. B.Tech graduates' salaries vary depending on their specializations. The salary also changes according to the candidates' experience. Salaries differ even between the public and private sectors.
However, B.Tech graduates may anticipate better pay in the private sector than in the public sector. As a B.Tech student, you will have career opportunities in both the public and commercial sectors. The B.Tech programme includes specializations in a variety of disciplines. Computer Science, Mechanical Engineering, Electronics Engineering, Civil Engineering, and Automobile Engineering are a few examples. Also find: What Is the Salary After M Tech?
Here in detail, we are stating the average salary of B Tech in the various specialization:
Average Salary of B Tech 2023- Specialization Wise
Mechanical Engineering
Mechanical engineers have a lot of job opportunities. B.Tech pass out in Mechanical Engineering, you may expect to earn between Rs 25,000 and Rs 40,000 per month when you start your career. Your compensation will also vary depending on your job role. You may earn an average of 3- 8 lakhs per year as a Project Engineer or Design Mechanical Engineer. Floor Managers, Project Managers, for example, might earn greater pay. Enroll today for BTech In Mechanical WILP Programme!
Computer Science Engineering
B. Tech in Computer Science graduate has a plethora of options to join and the compensation will vary depending on the industry/sector.
As a new graduate, you may make up to 2.5-3 lakhs if you work as a Programming Analyst, Software Engineer, Hardware Engineer, or Associate Engineer after completing your Computer Science Engineering degree. As your experience increases your salary will get a very sharp hike. Enroll today for BTech In CSE WILP Programme!
Electronics Engineering
After graduating with a B.Tech in Electronics and Communication, you may expect to earn around Rs 25,000 per month in the government sector. With a better job profile and more years of experience, your income will rise. The private sector might pay between Rs 20,000 and Rs 1 lakh per month. You may earn between 3 lakhs and 6 lakhs per year as a Network Engineer or Associate Software Engineer. Enroll today for BTech In ECE WILP Programme!
Civil Engineer
According to Pay scale, an early career Civil Engineer with 1-4 years of experience earns an average total compensation of Rs. 2.93,287. As you gain experience and your salary shoots up to 12 Lakhs per annum and can job positions of project managers and other managerial positions. Enroll today for BTech In CIVIL WILP Programme!
Summary 
It all depends on whatever firm you're assigned to… Accenture, Infosys, and Wipro, for example, pay between 3.25 and 3.5 lakhs a year… While other superior businesses, such as Bosch, Moonraft, and Intel, give 4 LPA, Benz provides around 5 LPA. Companies that sell products provide dream salary structures. 
SAP and Oracle pay freshers around 9 LPA, but VMware (14 LPA) and Nutanix (19 LPA) do not!!! The list goes on and on. So a fresher's pay is entirely dependent on the firm he eventually joins. Also, as the entrepreneurial trend has exploded in recent years, so have their offers to young college students in terms of high salaries, shares, and ESOPs. So, in the end, it all comes down to your personal abilities and talents, which may lead to a better opportunity.
FAQs
⭐Which job has the highest salary?
Well, engineering students get decent salaries when they graduate but with the current going trend, Computer Science graduates are getting a higher salary package. 
⭐Which job is best for the future?
The jobs in Computer Science are the best jobs for future aspects but you cannot rule out other specializations such as mechanical, civil & electronics as they are an indispensable part of the market. 
⭐What jobs are in demand for 2020?
Some of the top Demanded Jobs in 2020 are: 
Software Engineer

Data Scientist 

Database Administrator Engineer

Product Engineer

Embedded System Engineer
⭐What is the salary of B Tech?
The average salary of B Tech ranges from 2.5 Lakhs to 4.5 Lakhs when students start as freshers.