BTech After Polytechnic: Career, Job Scope and Advantages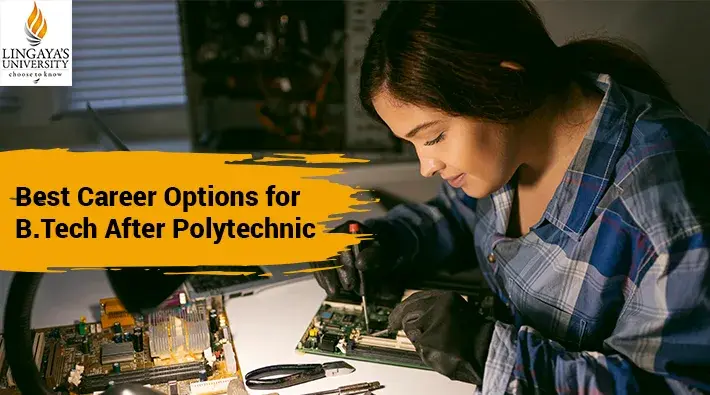 In today's competitive job market, professionals are constantly seeking opportunities to enhance their skills and improve their career prospects. Lingaya's Vidyapeeth recognizes this need and offers a unique B.Tech lateral entry program that enables individuals to acquire a Bachelor's degree in Engineering while maintaining their professional commitments. This blog explores the career prospects after pursuing this program and highlights the various job roles associated with it.
Career Prospects for B.Tech After Polytechnic 
Engineering is one of the most sought-after career fields currently because of the incredible job opportunities in this field. If you have completed polytechnic, then this B.Tech degree will help you enhance your prospects of getting better and higher paying jobs. B.Tech graduates have a wide range of career opportunities across various sectors. Here are some sectors where B.Tech graduates can explore career options:
Information Technology (IT) and Software Development:

This sector offers opportunities for B.Tech graduates in software development, programming, web development, mobile app development, data analysis, cybersecurity, and IT consulting.

Engineering Services:

Engineering consulting firms and engineering departments of companies hire B.Tech graduates for roles such as design engineer, project engineer, research engineer, quality control engineer, and technical consultant.

Manufacturing and Industrial Engineering:

Manufacturing companies employ B.Tech graduates in areas such as production planning, process optimization, quality assurance, supply chain management, industrial automation, and product development.

Electronics and Communication:

This sector provides opportunities in telecommunications, semiconductor manufacturing, electronics design, embedded systems, network engineering, and telecommunication equipment manufacturing.

Energy and Power:

Power generation companies, renewable energy firms, and electrical equipment manufacturers hire B.Tech graduates for roles in electrical engineering, power systems engineering, energy management, and sustainable energy development.

Construction and Infrastructure:

B.Tech graduates can work in construction companies, real estate firms, infrastructure development organisations, and architectural firms as civil engineers, structural engineers, project managers, quantity surveyors, or urban planners.

Automotive and Aerospace:

Automotive and aerospace industries offer career opportunities in automotive design, manufacturing, research and development, aerodynamics, propulsion systems, and aviation technology.

Government Sector:

B.Tech graduates can find employment in government organisations such as defence establishments, research labs, public works departments, and government-run engineering enterprises.

Research and Development:

Research organisations, scientific institutions, and laboratories provide opportunities for B.Tech graduates to contribute to research projects in diverse fields like engineering, technology, and scientific innovation.

Financial Services:

Financial institutions and banks often require B.Tech graduates with strong analytical and problem-solving skills for roles such as financial analysts, risk analysts, technology consultants, or quantitative analysts.

Consulting Services:

Consulting firms hire B.Tech graduates to work on projects related to technology consulting, business process optimization, project management, or organisational strategy.

Entrepreneurship and Startups:

B.Tech graduates can explore opportunities as entrepreneurs and startup founders by developing innovative technology-based products or services.
These are just a few examples, and there are many other sectors where B.Tech graduates can find career opportunities. It's important to consider your interests, specialisation, and skills to identify the sectors that align with your career goals.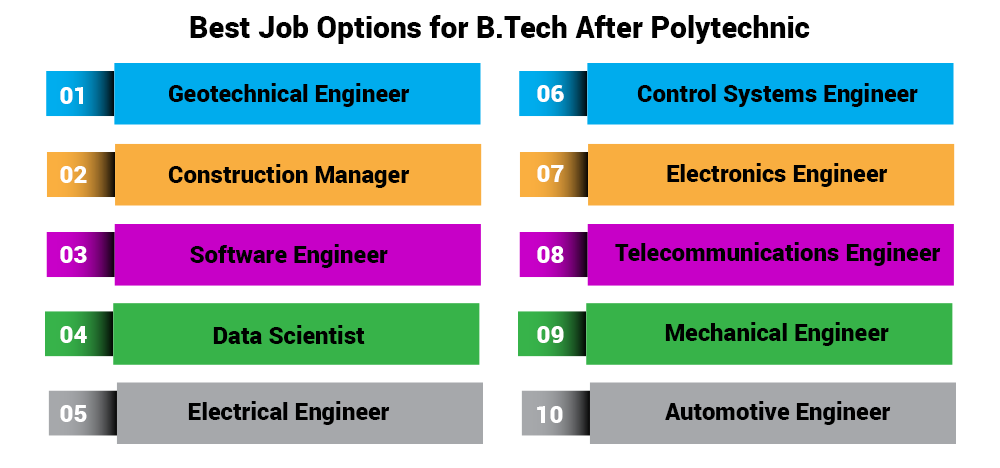 Top Job Roles And Salary 
There are several specialisations in the field of engineering and each specialisation offers a large and diverse set of job opportunities. We have mentioned a few of the many job roles, the ones which are popular, in demand, and high paying in the table below: 
Specialisation 
Job Role 
Average Base Salary 

Computer Science and Engineering 

Software Engineer/Developer 

INR 6-12 LPA

Full Stack Developer 

INR 7-12 LPA

Data Scientist 

INR 9-13 LPA

Artificial Intelligence (AI) Engineer 

INR 8-12 LPA

Cybersecurity Analyst 

INR 6-10 LPA

Electronics and Communications Engineering 

Electronics Engineer 

INR 4-7 LPA

Telecommunications Network Engineer 

INR 5-8 LPA

Network Engineer 

INR 4-6 LPA

Telecom Engineer 

INR 5-7 LPA

Embedded Systems Engineer 

INR 4-8 LPA

Mechanical Engineering 

Mechanical Engineer 

INR 4-8 LPA

Design Engineer 

INR 4-7 LPA

Manufacturing Engineer 

INR 4-8 LPA

Automotive Engineer 

INR 6-9 LPA

Quality Assurance Engineer 

INR 4-7 LPA

Civil Engineering 

Project Engineer/Manager 

INR 4-7 LPA 

Structural Engineer 

INR 5-8 LPA

Geotechnical Engineer 

INR 6-9 LPA

Construction Manager 

INR 9-12 LPA

Transportation Engineer 

INR4-7 LPA
Benefits of B.Tech After Polytechnic Course 
Enhanced Employability: The B.Tech for Working Professionals program from Lingaya's Vidyapeeth equips individuals with advanced technical knowledge and practical skills, making them highly employable in the ever-evolving engineering industry. Employers value candidates with a strong academic foundation coupled with real-world work experience, and this program caters to both aspects.
Career Progression and Leadership Opportunities: The B.Tech for Working Professionals program enhances individuals' leadership qualities and technical expertise, paving the way for career progression and increased responsibility within their respective organisations. Graduates often find themselves better positioned for promotions, higher-level management roles, and even entrepreneurial endeavours.
Economic Benefits: Pursuing the B.Tech for Working Professionals program from Lingaya's Vidyapeeth brings several economic advantages, such as: 
Competitive Salary Packages

: Engineering graduates, especially those with a B.Tech degree, enjoy attractive salary packages, reflecting the high demand for their skills. 

Return on Investment (ROI):

Investing in higher education pays off in the long run. The knowledge and skills acquired during the program significantly increase earning potential, leading to a positive ROI. 

Global Opportunities

: Engineering is a global profession, and with a B.Tech degree, individuals can explore job opportunities not only in their home country but also internationally, expanding their earning potential and professional growth prospects.
Networking and Industry Connections: Lingaya's Vidyapeeth's B.Tech for Working Professionals program provides students with valuable networking opportunities. Interacting with faculty members, industry experts, and fellow professionals can lead to collaborations, mentorship, and access to job openings in reputed organisations.
Top Specialisations 
Ligaya's Vidyapeeth offers a total of 5 specialisations for the B.Tech for working professionals course. All these specialisations are quite popular ones and the ones in high-demand. The specialisations offered at Lingaya's lead to a fulfilling and rewarding career. Following are these 5 specialisations: 
B.Tech After Polytechnic Fees   
The fee structure for the B.Tech for working professionals program at the Lingaya's Vidyapeeth is quite affordable so that candidates from all sections of the society and different economic backgrounds can pursue this course. 
Following is the detailed fee structure for the B.Tech after polytechnic course: 
| | | |
| --- | --- | --- |
| Course Fees  | Per Semester  | INR 44,000 |
| Registration  | One Time  | INR 3,500 |
| Exam Fees  | Per Semester  | INR 2,500 |
Conclusion 
The B.Tech for Working Professionals program from Lingaya's Vidyapeeth offers a flexible and comprehensive learning experience, enabling professionals to advance their careers while pursuing a Bachelor's degree in Engineering. The program opens doors to diverse job roles, career progression, leadership opportunities, and economic benefits. By acquiring the necessary skills and knowledge, graduates can make significant contributions to the engineering industry and achieve long-term success in their chosen field.
FAQs  
1) Is part-time B.Tech valid in India? 
Yes, UGC and AICTE have approved part-time engineering courses in India. These courses are conducted in a blend of online and offline learning. However, the course is strictly for people with a polytechnic diploma or equivalent qualifications and working professionals in relevant fields. 
2) How can I take admission in part-time B.tech? 
For admission to a part-time B.Tech program, firstly you must fulfil the eligibility criteria. You must have pursued a polytechnic diploma in a relevant specialisation or an equivalent degree. You can easily apply for admission online through the official website of Lingaya's website. You just have to fill the online application form and upload the required documents. 
3) Is Lingaya's Vidyapeeth government approved university? 
Yes, Lingaya's Vidyapeeth is duly recognised by UGC and AICTE to offer part-time engineering courses. Hence, the B.Tech for working professionals degree obtained is valid across all sectors. 
4) Which job can I get after pursuing B.Tech for working professionals from Lingaya's Vidyapeeth? 
Upon completing the B.Tech for Working Professionals program, graduates can explore a wide range of job roles across various sectors, including but not limited to- software engineer/developer, data analyst/scientist, project manager, systems engineer, civil engineer, mechanical engineer, electrical engineer, electronics engineer, network engineer, telecommunications engineer, automobile mechanical engineer, etc.  
5) Can I get a high paying job with a part-time b.tech degree? 
Yes, you can easily find high paying jobs once you have a B.Tech degree in hand. Your salary will be more in comparison to what you get with a polytechnic diploma. This is because a b.tech degree is considered to be a more credible degree among employers.