Top 15 Career Options After B Tech: What to Do After Engineering In 2023?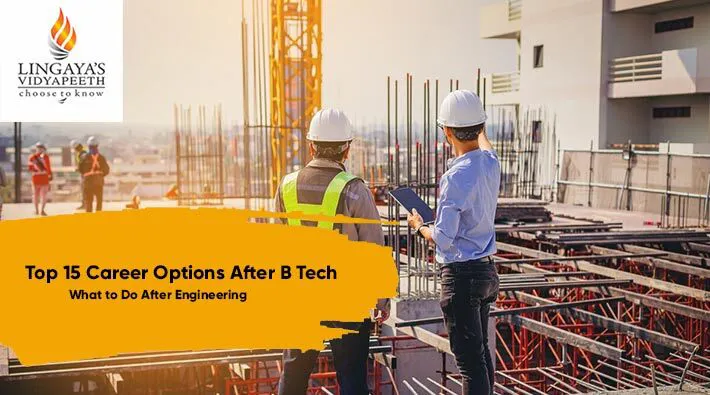 Bachelor of Technology (B Tech) Lateral Entry is a professional undergraduate engineering degree course awarded to candidates after they complete three years of study in the field. The basic eligibility criteria for B Tech Lateral Entry is Diploma in relevant fields. 
Apart from this students try to opt for other fields after completing their engineering degree. Although M Tech is a natural course choice after completing B Tech course, there are various other opportunities and courses also available.
The question often arises among the students, it frights them to wander aimlessly. So whenever it comes, what to do after Engineering?
Here is the list of huge possibilities one can look upon.
Top Career Options 
B.Tech College Placements

MBA ( Masters in Business Administration)

Civil Service Entrance Exam

Join the Defense 

Entrepreneurship

Job at PSU (Public Sector Undertaking)

Higher studies

Private sector jobs

Short Courses

Teaching 

Become an expert

Look for internships

Full-stack development

Reach out Career counsellor

Freelancing, Filmmaking, Blogging, Content Creator
Now let's deep dive into the Top career opportunities to make it more clear. Also Read: M Tech Distance Education Is Valid or Not?
B. Tech College Placements
The competition in B.Tech Lateral Entry has always been high, and the aspirants must score the best marks to get better placement chances. Lingayas Vidyapeeth now provides 100% placement assistance for their aspiring students. 
In-campus placements take you directly to recruiters without much effort. They offer you a chance to get a lucrative job. Don't forget that it will be easier for you to get a job through campus placements than outside because of less competition.
Candidates should keep the following points in mind before appearing for placement –
Keep your resume ready and up-to-date

Maintain a good score in their subject and be well-aware of what all you did in your internship and your B.Tech project 

Prepare for group discussions

Do proper research and study about the companies you are applying for

Participate in extracurricular activities
MBA (Masters in Business Administration)
MBA offers you flexibility. Many colleges offer part-time and weekend MBA courses for people who need to gather some work experience and learn at the same time. This is how working professionals are able to polish their skills while working hard to add value to their resume and you can also do this to learn and study at the same time. Also Read: What is the Full Form of M Tech?
An MBA degree in your resume can help you get management roles in renowned organizations like Accenture and TCS. To enter the management field, you can give the CAT exam (Common Aptitude Test) and get a good score to enter into the management college of your choice. 
MBA courses after B. Tech are as follows
Human Resource Management

Finance and Accounting

Public Policy

Marketing

Business Communication

Forest Management

International Business

Retail Management

Supply Chain Management

Information Technology

Business Analytics
Civil Service Entrance Exams
Civil Services Exam is the best option that one can take up after engineering. For this, you will have to clear the UPSC civil services exam. Which is considered one of the toughest examinations. Thus, it is recommended that you start preparing for at least a year before applying.
The UPSC offers three engineering optional subjects – civil, mechanical, and electrical engineering. On getting a high rank in the examination, you can get the prestigious positions of IAS, IPS, or IFS. 
The UPSC Engineering Services selection process is divided into three stages:
Stage-I: Engineering Services (Preliminary/Stage-I) Examination (Objective Type Papers)

Stage-II: Engineering Services (Main/Stage-II) Examination (Conventional Type Papers)

Stage-III: Personality Test
Join the Defense
 A career in defense services is considered one of the most respected and prestigious careers in India. Each year lakhs of aspirants give various entrance examinations in order to get selected in the defense services. It will offer you good pay, job security, as well as fulfill your passion to serve the nation.
You can take up the University Entry Scheme (UES), Air Force Common Admission Test (AFCAT), or Short Service Commission (SSC) Entrance Test after B. Tech to enter this field. The age limit for Indian Military Academy is 19-24 years, for the Air Force Academy is 19-24 years, for the Naval Academy is 19-24 years and for Officers Training Academy is 19-25 years.
Entrepreneurship
As an engineer entrepreneur, you can express your creativity and ideas, success of many startups inspires many engineers to set up their own businesses. Earlier engineers usually used to avoid business making strategies but, time has changed. Since this path might be full of a lot of challenges, it is recommended that you check the positives and negative sides of it very carefully before you choose this option. On such strategies, MBA would help a lot and provide business support tactics. 
Jobs at Public Sector Undertaking
In PSU or Public Sector Undertaking companies that are partially owned by the state or central or both government sectors fall under it. These jobs are available either on a permanent, contractual or temporary basis. 
If you are looking for PSU jobs, you can apply to the following companies –
 BHEL

 NALCO

 LIC

 Hindustan Copper Limited

Indian Government Mint, etc. 

NTPC
PSUs appoint employees based on two categories such as, with a valid GATE score and without a GATE score. GATE or Graduate Aptitude Test in Engineering is an examination that primarily tests the comprehensive understanding of various undergraduate subjects in engineering and science for admission into the Masters Program and Job in Public Sector Companies.
Some of the PSUs that hire employees based on GATE results include SAIL, Indian Oil, Vizag Steel, ONGC, DRDO, and NALCO. Therefore, B. Tech Lateral Entry graduates can take up such exams for government jobs in PSU sectors.
Higher Studies
One of the most popular career options after engineering is to pursue higher studies. If you're a B. Tech student, then you easily have the option to prepare for the GATE exam. GATE or Graduate Aptitude Test in Engineering is an examination that primarily tests the comprehensive understanding of various undergraduate subjects in engineering and science for admission into the Masters Program and Job in Public Sector Companies. Alos Find: M Tech Open University?
By this, you can expand your knowledge area and become a more qualified engineer. You can prepare for JAM if you aren't interested in the GATE exam. JAM or Joint Admission test for Masters is a common admission test conducted every year for admission into Master of Science and other post-graduate science programs at Indian Institutes of Technology, Indian Institute of Science, and National Institutes of Technology, organized by alternating institutes every year.
Private Sector Jobs
Private firms are widely open for people to work with them. Apart from the public sector, one can easily apply for private jobs from different job portals. Such as Naukari.com, LinkedIn, Monster, etc. Searching jobs for Private sector firms are easily accessible yet challenging.
One can also enter private sector firms by campus placement. Since B.Tech is a broad field, there are many engineering job titles. Such as mechanical engineer, computer science engineer, Civil Engineer, Software developer, etc.
Short Courses
Many people look up for short-term courses who would like to study more or something different. Short-term courses act as an alternative pathway to enter an organization, for example, a six-month course in data science and machine learning can land a B.Tech graduate into a high-profile organization with a good starting salary.
Advantages of short-term courses are that they are mostly cheaper than any other full-time courses and you can study the course from the comfort of your home. One can also choose diploma courses.
Teaching
Many people aspire to be teachers and contribute something to the education system. One can join as a professor in engineering colleges. This teaching profession gives you ample opportunity to grow one's professional life.
You can also give tuition to those students who are trying to get admission into engineering colleges. It can also be an additional source of income and will also help in polishing up your knowledge too. It includes a great level of honor.
Becoming an Expert
Various colleges offer many diploma courses in the subjects which are prominent after engineering. Nowadays, many companies look for engineers who have experience or are trained in special fields. Engineers who are aware of the latest technologies like artificial intelligence, data science, and blockchain are in great demand. There are many career options after Engineering in this field and the candidate can choose anyone depending on their interests and master it. For instance, the top courses and skills in demand are:
Digital Marketing

Artificial Intelligence

Very-large-scale integration (VLSI)

Ethical Hacking

Blockchain

Protocol Testing

Machine Designing

Embedded Technology

Data Science

Robotics
Look for Internships
Internships are those works one can do anytime ending up with a proper experience letter or full time job with the same firm. Be it a home-maker, a starter, or someone who had a career break. Similarly, as a fresh B.Tech graduate, you can intern at an organization of your choice and slowly turn that opportunity into full-time employment. Interning helps you get polished in your working skills or get experienced. However, you have to decide whether you want a paid or unpaid internship. 
Full-stack Development
As more and more companies focus on building websites for their businesses, full-stack developers are required in large numbers to provide complete support in website and application development. This job does not face much competition so there is a good chance for you to choose this as a career after engineering. 
B.Tech engineers who have knowledge of programming languages can choose to work as full-stack developers. However, students without any prior experience in coding but who want to work as developers can also take up full-stack development as a fruitful career. 
Reach out to Career Counsellor
Many students dwell whether they are choosing the right path, as a matter of future life after completing engineering studies, you might think to go for a career counsellor. You need to make the right decision of choosing a perfect career option for yourself.
Most of the candidates prefer enrolling their names in some of the career resource centers, which will help them in finding their dream job or which will lead them towards a better career and bright future.
Freelancing, Filmmaking, Blogging, Content Creator
In the era of social media freelancing, content creator, blogging is one of the most demanded work profiles. Media require everyday spice content and makers fall short, so it is one of the best career opportunities if you are interested in this field. Many people love making short films, it does not require much money as compared to big budget films but when sent into competitions it earns more than what was spent. It is one of the most creative areas of interest and a passionate work line career.
In the end, whatever career you choose, the most important thing that should be kept in mind is, one should always be hard-working, passionate, and loyal to its work. Leadership, teamwork is the key. 
FAQ's
⭐Which is the highest paid job in B Tech?
After Engineering, the jobs in Core fields such as Mechanical, Civil or Computer Science offer a handsome package to the students. The technical knowledge of engineers makes them fetch a good salary package. 
⭐Which job is best for B Tech?
In technological domains, B Tech is superior. In addition to the public sector, every graduating engineer may find a decent position in the private sector.
⭐What is B Tech salary?
You can earn a starting salary of around Rs 30,000 a month in the government sector after you've completed B. Tech in Electronics & Communications. With a better profile and years of expertise, your income will improve. Around Rs 40,000 to Rs1 lakh a month might be found in the private sector.
⭐Can I do B Tech with the job?
Yes, if you have done Diploma and doing the job, you can apply for the B Tech Lateral Entry, where you can do both job and B Tech simultaneously.