Is B Tech Lateral Entry Possible After B Sc? Ultimate Guide 2023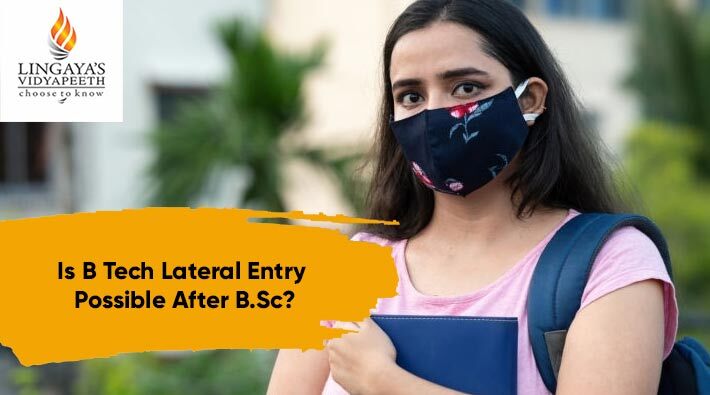 Ending B.Sc. graduates lengthy wait to enter engineering courses on the lateral entry, engineering colleges have opted to follow the 2013-14 academic year provisions of the All India Council on Technical Education (AICTE). According to this provision, now students who have completed B.Sc in IT or Computer Science, can follow their pursuit and go for the technical degree.
Students with B.Sc degrees now have a golden opportunity to directly get admission in the second year of BTech Computer Science. Earlier this privilege was only accessible to the Diploma holder, but the provisions of allowing B.Sc students to pursue BTech directly into the second year is a milestone decision. 
Whether you are questioning if you should pursue B.Tech after B.Sc, this blog will provide you with an answer. Students are frequently perplexed as to how to apply for B.Tech admittance or if they may enroll in the B.Tech lateral entry programme. As a result, we attempted to address all of your concerns, from qualifying requirements to admission procedures, subjects, and job aspects after completion of the course.
AICTE Guidelines for the B.Sc IT/ Computer Science Lateral Entry 
According to the AICTE Guidance, candidates who have completed B.Sc. with a minimum mark of 45 percent and have completed class 12 with the subject of mathematics are eligible. 
Students who have done B.Sc (IT/ CS) are eligible to take admission in BTech Computer Science through lateral entry mode. This enables the students to get a degree in Engineering just in three years. The course is really helpful for the students with an aim to get admission in the technical course and don't want to start afresh from the first year of the course. 
The procedure of admission to BTech Lateral Entry is very easy and distinct to the regular BTech entry process. Despite being a technical diploma for three years, students are equipped for a variety of careers. After B.Sc in IT/CS, you will obtain more technical posts like a coder, developer, network manager, etc. After finishing BTech, you will certainly receive a better job offer than B.Sc.
BTech Lateral Entry Eligibility Criteria
After allowing Students of Diploma for the Lateral Entry, Students who have done B.Sc in IT and Computer Science are also eligible to take admission in the BTech Lateral Entry in the Computer Science Branch. 
So, the eligibility criteria are students must have done B.Sc in Computer Science or Information Technology to apply for the Engineering course in the Computer Science.
The course is gaining popularity as students who have done B.Sc is getting more inclined towards getting a BTech degree. The main reason for inclination towards BTech after B.Sc is because BTech is a Professional and Technical Degree that opens up the job scope for the candidates to be on the managerial level.
Admission Procedure in BTech Lateral Entry after B.Sc IT
Lingayas Vidyapeeth offers admission to lateral entry courses in B.Tech, which implies that candidates must register for admission online. You may simply maintain all your documentation in hand to download their scanned copies using a debit/credit card or a net banking system. The admittance procedure is straightforward online.
Follow the steps below to enter the lateral B.Tech programme:
Fill out the application form on the official website and get your registration number.

Please submit all needed documents.

Make a payment and get your admission number.

Your LMS login id and password will be sent to you.
To be considered for BTech Lateral Entry admissions, candidates must have received a minimum of 50% aggregate marks in a three-year B.Sc IT/CS programme after passing the Class 10 +2 board exam.
Computer Science Engineering B.Tech Lateral Entry Duration
The Lateral Entry Computer Science Engineering is a three-year programme. The course begins with the second year and is completed in six semesters, with the Btech Lateral Entry in Computer Science Engineering subject comprising each semester. A six-month term is one-half.
The theoretical and practical nature of the Lateral Entry Computer Science Engineering Programme makes the program in great demand in the job world.  BTech's Later Entry Program lasts for three years since students have been enrolled in its first IT/CS BSc curriculum immediately in the second year. 
Specialization offered after B.Sc IT/CS
After doing B.Sc in IT/ CS the students can apply for BTech in Computer Science. As the students have done the basics of the course in Computer Science they are given direct entry in the second year of the course. BTech in Computer Science deals with the field of computer engineering. 
All computer software and hardware are part of coding, analysis, and design. Computer engineers focus primarily on the development, analysis, implementation, and maintenance of software and hardware. They ensure the seamless operation of the software programming elements and the hardware systems components.
Subjects for B.Tech Lateral Entry in Computer Science 
As already indicated, the lateral entry into the program for computer science engineering takes 3 years to complete.  In the first year of engineering in CS Engineering is already taught in three years of B.Sc IT/CS.
Here is the curriculum and the admission in computer science engineering throughout the three years.
| | |
| --- | --- |
| Semester III | Semester IV |
| Course Name | Course Name |
| Data Structures & Algorithms | Operating Systems |
| Discrete Mathematical Structures | computer Architecture & organization |
| Object-Oriented Programming | Database Management System |
| Digital Electronics | Java Programming |
| Mathematics-III | Design & Analysis of Algorithms |
| Engineering Economics & Industrial Management | Operating Systems Lab |
| Data Structures & Algorithms Lab | Database Management System Lab |
| Object-Oriented Programming Lab | Java Programming Lab |
| Digital Electronics Lab | |
| Semester V | Semester VI |
| Course Name | Course Name |
| Microprocessors & Microcontroller | Soft Computing Techniques |
| Computer Network | Data Mining & Predictive Modeling |
| Artificial Intelligence | Elective – I |
| Python Programming | Elective – 2 |
| Software Engineering | Elective – 3 |
| Formal Language & Automata Theory | Introduction to Machine Learning |
| Microprocessors & Microcontroller Lab | Soft Computing Lab |
| Artificial Intelligence Lab | Data Mining Lab |
| Software Engineering Lab | Machine Learning Lab |
| Python Programming Lab | Minor Project – I |
| Semester VII | Semester VIII |
| Course Name | Course Name |
| Deep Learning | MOOC Course Swayam – I |
| Open Elective – I | Internship |
| Elective – IV | — |
| Elective – V | — |
| Elective – VI | — |
| Elective – IV Lab | — |
| Deep Learning Lab | — |
| Elective – V Lab | — |
| Major Project | — |
Scope of Computer Science Engineering in India & Overseas
IT is a flourishing industry. India, with its world-class experts, has established itself as a leader in the IT business. Indian candidates from Tech giants in the US and Europe are in great demand. India has risen for IT firms worldwide as the top outsourcing location. The technical workforce in India is one of the world's largest. In recent years, the Indian software sector has seen remarkable expansion. 
In India and overseas, the market for computer engineers has been robust. The salary package is really good and there are chances for students in computer science engineering both in IT and non-IT organizations. Besides normal IT occupations, these students are also employed by non-IT companies.
Universities, public and private enterprises, universities, research, industry, business and enterprise groups have openings. In their development, design, manufacturing, maintenance and assembly departments, the IT businesses produce jobs.
They encompass the many roles:
Software Developers

Programmers

Web developers

Hardware Engineers

System Designers

System Analysts

Networking Engineers

Database Administrators 
It won't be an absurdity to say that B Tech from Computer Science offers global jobs and employment offers. These chances are not exclusive to IT firms that can participate in any company that needs those abilities.
Top Job Profiles for BTech Computer Science Engineers

As the job opportunities are endless we are quoting some of the few job Profiles that one can get after completing the BTech from Computer Science. 
Here are a few:
Web designer and Developer: All companies require this competence. The development and upgrading of a corporate website is carried out by developers in the front, back or full-stack. The website creates the visibility that is so much required and defines the return on money for a firm. 
Analyst: In evaluating data, a computer and a data scientist are required. A technical specification based on functional spec is published that is engaged in the design of the project. For this position, expertise from a software engineer and responsibilities and work might overlap may be necessary. If the software engineer cannot help, the senior developers of the software might be called upon to help.
Administrator of System Database: This position is mostly directed towards monitoring database performance, data consistency and data security. For debugging, maintenance and seamless operation of the system,  the system database administrator is responsible.
Programmer: The main job of the programmer is to write codes for software and operating systems. These codes support computer applications running on the machine.
Conclusion
As we are getting more towards the digital dependency, the need for technical graduates is increasing every second. India being the perfect spot for the unicorn startup, nothing can not be achieved with the engineers with the knowledge of computer science engineering. 
After doing B.Sc IT/CS, students may not get the apt jobs but with a technical degree of Engineering, the jobs profiles offered are much better. Also, BTech enables the students to climb up the corporate ladder and achieve the success in career.