B Tech Non Attending Is A Fraud (UGC/AICTE Guidelines 2023)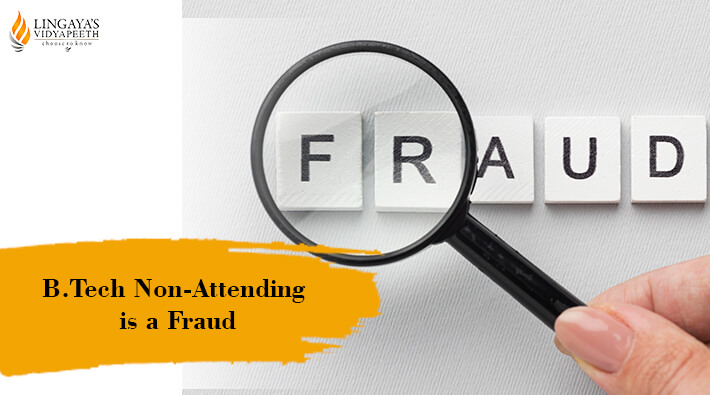 Bachelor of Technology is a graduation program that makes you a technically skilled professional. It's an engineering program so it involves Theoretical as well and Practical Knowledge. This is also mandatory as per AICTE and UGC terms and conditions.
If you are pursuing or planning to pursue a B.Tech Non-Attending kind of program. You must read this information first. Get lateral entry admission In B.Tech!
Why B. Tech Non- Attending is the wrong choice?
B. Tech non-attending is a waste of money and time
B. Tech non-attending aspirant misses the exposure of theoretical and practical knowledge.
It is also not approved by AICTE as it is considered as a Scam on the name of education. Especially, Working professionals and diploma holders are being cheated by this scam.
B. Tech non-attending along with job is neither legal nor approved by any education administration.
Degree of B.Tech non-attending is just a piece of paper for working professionals that can only be hanged on the wall. From this degree, you cannot able to apply for any job around the world. As its totally clear that it's an invalid course and not acceptable anywhere.
B. Tech non-attending is like a Job without Salary and exams without marks.
So, If you are a working professional and willing to pursue engineering along with your job. Just go ahead for B.Tech for Working professionals Program.
Also Read: B.Tech Distance Is Not Allowed By UGC
According to the Supreme Court of India, Distance Education for B Tech is invalid. Distance B Tech, on the other hand, has the largest search volumes on the internet, which Lingayas Vidyapeeth has covered. The goal of covering distance b tech is to raise awareness of its ineffectiveness, not to promote it. By no means does Lingayas Vidyapeeth encourage or provide B tech distance education.