What Is B Tech Lateral Entry for Diploma Holders? 2023 Info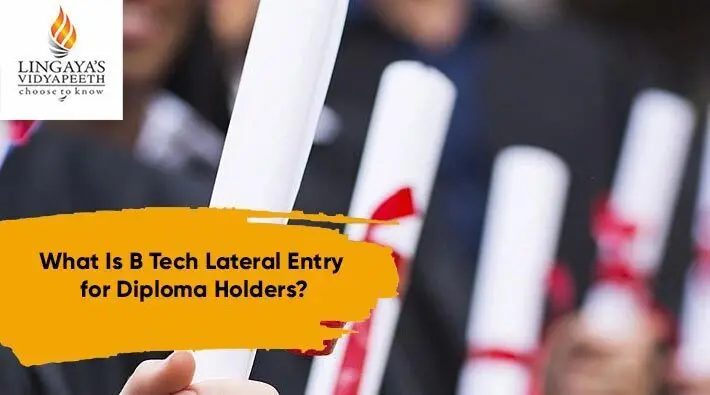 B Tech lateral entry course for the diploma holders is one of the most common undergraduate engineering courses chosen by students with science backgrounds. After obtaining a diploma in engineering, an individual may apply for lateral entry into the second year of engineering (third semester).
Those who are approved will be eligible for direct admissions without having to complete the first year (or first two semesters) of B.Tech. The course is six semesters completed in 3 years. 
Is B Tech Lateral Entry an AICTE-approved Course?
It is an AICTE-approved course that is legal in every way. B Tech Lateral Entry is the cure for students, particularly working professionals, who are unable to enroll in a regular Bachelor of Technology programme for a variety of reasons. Because of the lesser fee structure, the majority of candidates choose a B Tech entry lateral because it gives them more freedom in their schedule and helps them continue their job along with the undergraduate course. 
We can see how contemporary technology has altered our standard of living. Technology is now employed in nearly all of our everyday activities and activities. Technology has transformed the way we function as humans due to its widespread use. Engineers are at the helm of this transformation. 
There are several reasons to pursue a B.Tech lateral, and we will attempt to address them all. Diploma engineering students study entry-level engineering information from their various colleges and go on to become junior engineers, whilst B.Tech Lateral Entry students pursue advanced knowledge and gain a lot of hands-on experience. Since the demand for B.Tech. Lateral Entry has been steadily growing, the majority of diploma graduates have chosen this degree. 
In this blog, we will cover all the important aspects of BTech Lateral Entry including, Eligibility, Specialization, Fees, Career aspects, and other frequently asked questions. 
Key Highlights of B Tech Lateral Entry Course for Diploma Holders
BTech Lateral Entry course is a tailor-made course for Diploma holders who want to upgrade their diploma to a degree. 

The duration of the whole program is of 3- Years and is divided into six semesters. 

B Tech Lateral Entry for Diploma Holder is a valid degree as it is approved by AICTE. 

Students can pursue the course in the various specializations including Mechanical, Civil, Electronics, Automobile, and Computer Science. 

The Degree of BTech lateral entry has the same recognition as Regular BTech in the job market. 
Regular B Tech or B Tech Lateral Entry: Which is Better?
Both programs are regarded as equal in the market when it comes to career prospects. Some experts, however, believe that students' practical experience obtained throughout their engineering diploma helps them better grasp courses.
Students pursuing B Tech in specializations such as electronics engineering, civil engineering, and mechanical engineering may benefit from this. So students with Diploma and then pursuing BTech are considered on priority as compared to the freshers. 
Eligibility of B Tech Lateral Entry Course for Diploma Holders
Candidates who want to apply for B Tech lateral entry admissions must have successfully completed a three-year full-time (regular) engineering diploma.

After passing the Class 10 board exam, candidates must have secured a minimum of 50% aggregate marks in a 3-year diploma to be considered for B Tech lateral entry admissions.

Students who completed a 3-year diploma after passing their class 12 board examinations are also eligible for lateral entry into the BTech program. It is up to the students to decide whether they wish to pursue an engineering diploma after class 10 or after class 12.

Working Professionals who have passed a Diploma and are employed can also apply for the program.
Duration of B Tech Lateral Entry Course 2023
B Tech Lateral Entry only differs on the duration terms when compared to the Regular BTech. The duration of the B Tech Lateral Programs course is 3 years and the whole course is completed in the given stipulated time. The course of B tech diploma holders is divided into 6 semesters where every semester is completed in six months. 
The best part about B. Tech for diploma holds course is that it allows students to obtain practical knowledge rather than simply theoretical knowledge. Those who completed their B.Tech through a lateral entry programme have a greater knowledge of the subject and are better problem solvers. 
B Tech Lateral Entry Fees 2023
The Fee structure of B Tech Lateral Entry remains at the lower side when compared with the regular BTech. The fee of Btech Lateral Entry is Rs. 39,000/ Semester and the fees remain the same irrespective of the specializations offered at the university.
Top Specializations in B Tech Lateral Entry Programs 2023
Lateral entry admission to B.Tech programmes is available to students having a diploma in engineering.
Here are some of the top Specializations in Delhi NCR, India in which a student can apply to BTech Lateral Entry program: 
Mechanical Engineering: Mechanical engineering applied engineering physics, mathematics, and material science to the study, design, and manufacture of physical systems or machines.
Civil Engineering: The study of design, building, and maintenance of physically and naturally constructed infrastructure such as roads, bridges, dams, airports, sewage systems, pipelines, and trains is known as civil engineering.
Automobile Engineering: Automobile engineering is a subset of engineering and manufacturing that deals with the design, manufacture, maintenance, and safety of vehicles including buses, motorbikes, and automobiles.
Computer Science Engineering: The study and advancement of computer design, computer theory, algorithms, computer networks & cybersecurity, coding, and computer software testing are the main areas of computer engineering.
Electronics Engineering: Electronic components, semiconductors, electronic circuits, devices, integrated circuits, and their systems are studied and designed in electronics engineering.
Broadcast engineering: telecommunications, control systems, signal processing, systems engineering, computer engineering, instrumentation engineering, electric power control, and robotics are all areas where electronics engineering is used.
Career Opportunities After B Tech Lateral Entry Degree Programs
One of the most pursued and required programs is the Bachelor of Technology. Because technical advancements are occurring in nearly every sector, B.Tech graduates have a plethora of options. Due to their technical skills, students with a Bachelor of Technology get a significant edge during job interviews. 
Here are some of the Career Opportunities that a candidate get after completing BTech for Diploma Holders: 
If you don't wish to continue higher education, your questions after B.Tech are answered through campus placements. Linagayas Vidyapeeth has the facilities and offers a solid rank. Apply but, more significantly, prepare well for the various possibilities for placing on campus. Submit your application for jobs of your interest while taking into account the engineering sector you study so that you can flourish in your chosen vocation. Engineering students receive more and more campuses year after year, with large compensation incentives for applicants with a high level of academic record.
Only if you wish to specialise more should this option be picked. The next step will be to study M.Tech or MS with a focus on the specialisation you wish to pursue and achieve. Specialization will provide you an edge afterwards, especially during job interviews, over others. After finishing a B.Tech, another alternative. Management and business are very popular among engineering graduates. You may also think it is vital to train yourself with managerial abilities to help you progress in your career when you have technical competence. The most popular and frequently promoted Master of Business Administration (MBA) programme in India provides a wide choice of options. There is also the provision of HR, marketing, digital marketing, international relations, sales, and other specializations.
Jobs with a PSU run by the government, like ONGC, NTPC, SAIL, BHEL, or HPCL, provide high-profit benefits. Despite the strong competition for these occupations, are surely worth a shot. In their last year of engineering, the examination is accessible to students. Government jobs are also available in different sectors, such as the PWD, India Army, and Indian Engineering Services. 
Salary after Doing B Tech Lateral Entry Course 2023
B Tech graduates are in demand worldwide, from Fortune 500 firms like TCS, Wipro, Capgemini, Amazon, Genpact, and others, to startups and government agencies. Companies conduct large-scale recruitment campaigns from colleges and provide competitive B Tech pay packages ranging from INR 5-6 LPA. Due to their technical skills, students with a Bachelor of Technology get a significant edge during employment interviews. 
Salary packages differ from one company to the next. The best wages are offered by recruiters in key sectors such as Computer Science and Electronics ranging from Rs. 8 lakh to Rs. 25 lakh per annum. Some international companies may give pay packages of up to Rs. 1 crore each year. Salary levels in other industries might range from Rs. 3 lakh to Rs. 12 lakh each year.
Conclusion
The sooner your professional plans are prepared and you must take the measures required to achieve your job goals. Not only will B. Tech lateral input helps you complete a degree. The programmes will assist graduate students to expand their skills and know-how in engineering. 
It will also equip you for higher jobs and prepare you across many industries in the continuously changing work settings. A new world is continually shaped by technological breakthroughs. Students should select lateral entrance for further education and cooperation with other specialists.
FAQ's
⭐What is a lateral entry?
Lateral entrance allows a student to enter the second year of an undergraduate engineering programme directly (BTech). 
⭐What are the eligibility criteria for lateral entry? 
Candidates for lateral entry admissions must have passed a diploma examination from a recognized institute with at least 50% marks in the respective discipline of Engineering/Technology.
⭐Is lateral entry in BTech good?
As you have done a Diploma you will have the practical knowledge so you will have the theoretical knowledge along with the practical industry experience. 
⭐Is lateral entry-degree valid?
Yes, BTech Lateral Entry is valid as all the courses are approved by AICTE.