Which is Top B Tech Lateral Entry Colleges In Delhi NCR 2023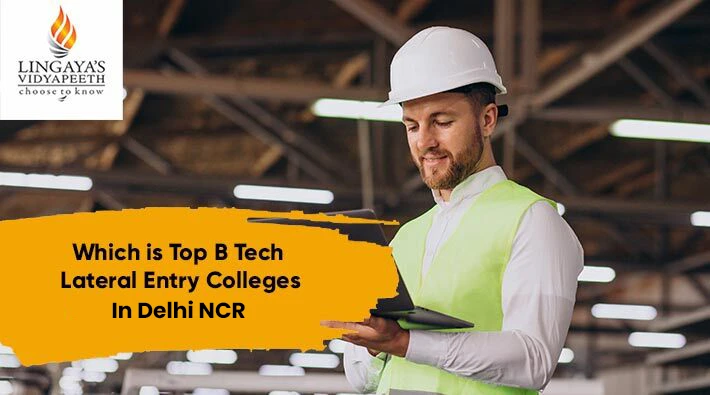 The B Tech Lateral Entry program is for diploma holders who have finished their diploma and now wish to pursue a higher degree in order to get more advanced knowledge. Are you looking for the top B.Tech lateral entry college in Delhi NCR but aren't sure which institution is ideal for Lateral Entry in B.Tech so you may follow your desired course? 
This article is created just for those who have completed their diploma and are seeking the finest B Tech colleges in Delhi NCR. The B.Tech lateral entry course, eligibility requirements, cost structure, curriculum, and, of course, a list of the finest B Tech lateral entry institute are all covered in this article.
Why B Tech Lateral Entry In Delhi NCR 2023?
B.Tech is an undergraduate engineering programme with a variety of specializations. B.Tech Lateral Entry is the same as a B.Tech programme, with the exception that it is only available to students who have finished a diploma or polytechnic. B.Tech Lateral Entry permits students to immediately enroll in equivalent engineering programmes in their second year. 
This is because the first year of the B.Tech degree teaches the fundamentals of engineering, and the students have previously been taught these fundamentals during their diploma. The course has designed this B.Tech in Lateral Entry course for working professionals by Lingayas Vidyapeeth Faridabad so that they do not waste time learning the same stuff again. Students who have completed a three-year diploma programme after graduating from high school can bypass the first year and enroll in second-year B.E./B.Tech programmes. 
BTech Lateral Entry is a 3-year degree, the admission method and is a little different from a regular B.Tech programme. It is technical training that leads to a variety of career options. The University Grant Commission and the All India Council of Technical Education both value and recognise the B.Tech lateral entry degree. 
Admission to this programme will be granted based on the results of different state-level entrance tests. Before applying to any institution, candidates should verify the eligibility requirements for B.Tech lateral entry admission, since various schools have varied admission standards based on their norms. Let's take a closer look at its eligibility.  
B Tech Lateral Entry Eligibility Criteria New Delhi 2023 
The eligibility requirements for B.Tech Lateral are relatively easy since just a few requirements must be met in order to be accepted into the programme. You simply need to complete your 3-year diploma in the same branch to enroll in B.Tech Lateral Entry courses. Certain institutions require a total of 50% in their three-year diploma in order to be admitted to the programme. B.Sc IT with 50% degree holders are also available for b tech in computer science program. 
After finishing 10th grade, you can apply for your diploma or polytechnic courses, and after completing the diploma, students must pass a state-level admission test. In general, a B.Tech lateral entry program lasts six years, encompassing the diploma and B.Tech engineering periods. The most important requirement for admission to the B.Tech lateral entry program is that students have earned a diploma in the same field as the lateral entry B.Tech program.
B Tech Lateral Entry Specializations Delhi NCR 2023
Many fields have B. Tech Lateral Entry specialization, including Computer Science Engineering, Civil Engineering, Mechanical Engineering, Electronics & Communication Engineering, and Mechanical Automobile Engineering. These specialist courses cover a wide range of topics and are separated into semesters.
A specialized BTech degree will allow you to thrive in a certain field. If there are fewer subjects to analyze but a greater potential for progress in them, one might be more goal-oriented. The vision of the actions to be taken in a professional path is clear, thus the potential for success is greater. In addition to offering the opportunity to master basic topics, BTech specializations offer an expert grasp on technical advances in this field.
Here are some of the top trending specializations of B Tech in Delhi NCR top cities like Gurugram, Noida, Ghaziabad & Faridabad
B Tech Mechanical Engineering – Lateral Entry: The study of laws and principles of physics to evaluate, maintain, develop and produce mechanical systems, is mechanical engineering. In general, mechanical engineers deal in a range of ideas in the areas of thermodynamics, energy, kinematics, and mechanics. 
Civil Engineering – Lateral Entry: B Tech Civil Engineering introduces you to a programme that focuses on road and building planning, design, and construction. Transportation Engineering, Environmental Engineering, Structural Engineering, Maintenance, and Rehabilitation of Structures are some of the fields that are now in demand for Btech civil engineering graduates.
B Tech Electronics Engineering – Lateral Entry: Analogue transmission, fundamental electronics, microprocessors, solid-state devices, digital and analogue communication, analogue integrated circuits, microwave engineering, satellite communication, antennas, and wave progression are all covered in this field of engineering. It also manufactures electrical gadgets, circuits, and communications equipment. 
Computer Science Engineering – Lateral Entry: B. Tech in Computer Science Engineering degree is linked to algorithms, computing, programming languages, programme design, computer hardware, and computer software, among other things. It is an in-depth study of computer systems and applications. 
B Tech Automobile Engineering – Lateral Entry: Automobile engineering is the branch of engineering concerned with the design, manufacture, mechanical mechanisms, and operation of cars. It also serves as an introduction to engineering, which covers automobiles, motorbikes, trucks, and buses, among other things. 
About Top/Best B Tech Lateral Entry College In Delhi NCR 2023
Lingaya University is one of the top institutions in Delhi NCR, Faridabad India, with UGC-DEB and AICTE approval for B Tech disciplines. The university focuses on developing students' creative and critical thinking abilities. The university is ranked among the best for the B Tech Lateral Entry program in Delhi NCR cities like Gurugram, Noida, Ghaziabad & Faridabad. Lingaya University is an institution that provides students with excellent knowledge and skills in order for them to live a fulfilling life as a decent local. It is a 3-year program in which you directly get admission in the 2nd year of the b tech program. 
FAQs About B Tech Lateral Entry Colleges In Delhi NCR
⭐What is BTech lateral entry?
BTech lateral entry is a three-year engineering programme taken by students after finishing a three-year diploma study in any engineering subject.
⭐What does Lateral Entry mean?
For diploma holders, lateral entrance means immediate admission to the second year of engineering. Diploma holders have already learned the fundamentals of engineering during their diploma, therefore they do not need to attend the first year of engineering.
⭐BTech lateral entry course is valid in 2023?
Yes, the course is dully approved by AICTE and is totally valid. 
⭐What is the difference between the BTech and BTech Lateral Entry?
The BTech programme lasts four years, whereas the BTech lateral entry course lasts three years. The one-year difference is due to the diploma completed by students who are needed to enroll in the BTech lateral entry programme.