What is M Tech In Mechanical Design Engineering Course – Full Guide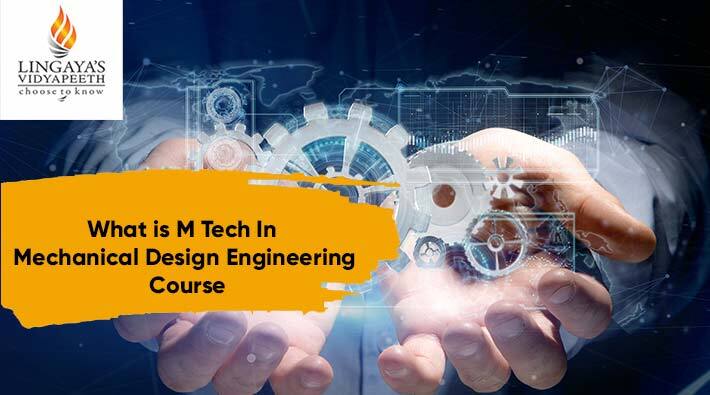 What is Mechanical Design Engineering?
M.Tech Design Engineering focuses on applications made in real time and the modern world and prepares students to design, create, and simulate them. Learners can also investigate new areas of Engineering Design and related sciences as part of the course. The course is basically a whole new way of experiencing and looking at the world while you create and design with your own creative mind. 
And here, we will go further into the details of the course and how amazingly fascinating it is for students who love art and love to create. 
Mechanical Design Engineering in M.Tech
Mechanical Design Engineering is a great specialisation to pursue under M.Tech. or in general engineering. The course brings out the artist in you, in some way. The course revolves around the modern world and guides students towards the way of learning to create, design and develop things. It is an exciting study and helps students to have an experience towards the world with an eye of creativity. The students with a profound interest inclination towards designing are best suited for this domain especially.
The course is for two years and will be having four semesters tied to it. There many known and reputed universities providing the course with the best faculty and experience. Students should have a good and thorough research before they dive into any course or university. 
One of the best universities offering this course is Lingayas Vidyapeeth University. Lingayas is one renowned university known for excellent courses. The university was founded in the year 2009 and has been located in the areas of Faridabad, Haryana. The university is recognized by the UGC and accredited by the NAAC with an A grade. Hence, this makes the university worth it and students should really consider going forward with it. 
What is the Eligibility Criteria for M.Tech in Mechanical Design Engineering?
Every graduate must achieve specific qualifying standards in order to be considered for admission to the discipline of mechanical design engineering. Each person's wants are rather basic and may be satisfied quickly. Let's look at the requirements for obtaining an M.Tech in Mechanical Design Engineering:
The candidate must have a B.Tech or equivalent from a recognised and reputable university in any specific domain.

The candidate must have a bachelor's degree with a minimum percentile of 50% to be considered for the course.
What is the Fee Structure for M.Tech in Mechanical Design Engineering?
M.Tech. is an interesting degree that can be pursued by anyone. Because the course is not offered in a distance learning format, we would like to show you an estimate of the fees that must be paid in order to obtain an M.Tech. Mechanical Design Engineering degree.
The cost of completing an M.Tech in Mechanical Design Engineering is estimated to be between INR 50, 000 and INR 4, 50, 000. The cost structure varies based on which university is attended and the amounts specified.
Moreover, Lingayas Vidyapeeth, the premier college in Delhi NCR, also offers Mechanical Design Engineering at a moderate cost. Lingayas charges INR 84, 500 per year for its M.Tech. Computer Science Engineering programme.
What is the Syllabus for M.Tech in Mechanical Design Engineering?
Mechanical Design Engineering is an innovative studying area as we have established till now.
Take a look at the syllabus it offers:
| | |
| --- | --- |
| Semester I | Semester II |
| Advanced Mathematics | Engineering Design Lab I |
| Theory of Elasticity | Personality Development and Self Awareness |
| Finite Element Method | Mechanical Behaviour of Engineering Materials |
| Mechanical Vibrations | Elective I |
| Reliability Methods | – |
| Semester III | Semester IV |
| Mechanical Analysis and Design Tribology | Elective III |
| Elective II | Elective IV |
| Engineering Design Lab II | Project |
| Mechanism Analysis and Synthesis | – |
What are Salary Structures after the completion of M.Tech in Mechanical Design Engineering?
No doubt, Mechanical design engineering is a highly respectable and growth worthy course, particularly at the master's level. Engineers in the design areas or business are well paid and have a promising future. Freshers in the M.Tech. in Mechanical Design Engineering programme start with a salary of about 3 lakhs per year. The structures, on the other hand, become more expensive as one's knowledge of their field expands. The package has the potential to easily grow to 6-7 lakhs per year at this point. As a result, if one devotes enough time and effort to a given field, tremendous progress can be made.
Is the course available for the Working Professionals? 
AICTE does not approve M.Tech. as a distance learning course which becomes a drawback for the ones who are working professionally and still wish to study alongside. It is a bit of a bummer when it comes to that, however, to recover, some of the universities came up with a structure designed for the working professionals to help them have a degree while they keep working too.
The course is known as M.Tech. for Working Professionals and it is truly suitable for all the individuals who have a hectic schedule. Very well known universities provide the course and that makes it authentic and genuine. Therefore, the students don't even have to worry about if the degree will be given equal importance or not. 
Lingayas Vidyapeeth is one of the known universities offering the course and above that it is also a recognised university. The university does not even serve an incredible course but also the faculty is astonishing there as well. The university is reputed and known worldwide, thus, making it much more impeccable than it can already be. 
Is the Working Professionals degree Valid?
The question is pretty obvious and equally concerning as well. But there is nothing to worry because the degree is considered absolutely valuable everywhere. If the course has been completed from a well known UGC recognised university, the degree will automatically contain value and recognition in the market. Therefore, the students must keep in mind that their research for the university should be equally thorough as their research for the course.
Let Us Wind Up Now
We are hoping to have served you with all that you needed before stepping into any degree and university. We're here to assist you by directing you to the most appropriate and appropriate stream. M.Tech is one outstanding stream and an innovative study. One needs a very creative and sharp mind to be in such an area which mostly requires research and new ideas.
This makes the course much more interesting and worth learning. Henceforth, a student wanting to study more into the field will always have a successful career ahead in it. And above that, when you are clear with your thoughts and interests, nothing can actually come into your way. So we wish you best of luck and happiest endeavours in life.