What Is B Tech For Working Professionals? – Full Guide 2023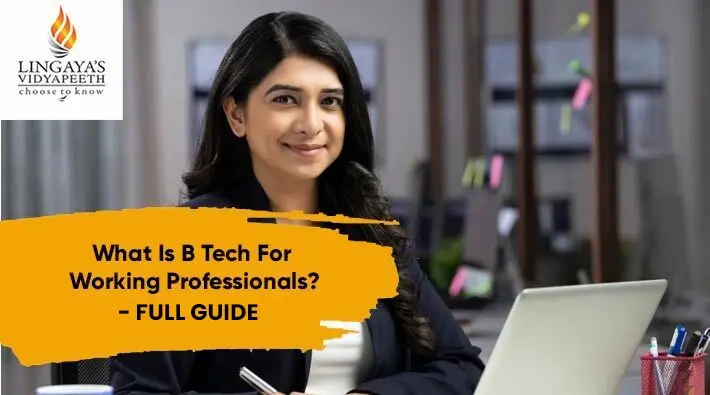 B Tech for Working Professionals is a three-year undergraduate engineering programme broken into six semesters. Btech for working professionals is one of the most in-demand degrees for applicants who are already employed and looking to advance in their present position.
Distance B.Tech Degree is invalid?
Distance B.Tech  is an invalid degree,  as it is well known. The supreme court ruling declared the Distance B.Tech to be invalid, rendering all Distance B.Tech degrees null and void. 
The B.Tech nomenclatures were developed by the AICTE to distinguish Regular B.Tech from it. This distinction generated a stir in the market and pushed the value of other B.Techs down in comparison to Regular B.Tech. Working diploma professionals who took B.Tech classes in the Working Professional or on weekends were not fully acknowledged. Diploma holders were torn between whether or not they should pursue it.
On the one hand, they required a B.Tech degree to advance in their careers, but on the other hand, they weren't ready to enroll in B.Tech Working Professionals programmes since they didn't see the value in them. They had no choice but to pursue normal B.Tech rather than B.Tech Working Professional or Weekend, even if it meant jeopardizing their current job. Also Read: B Tech Computer Science Course for Working Professionals. 
However, on August 14, 2020, the AICTE made a significant judgement. According to an AICTE circular, terms like weekend, part-time, and second shift would be phased out. Every B.Tech is the same regardless of any name. Working Professionals B.Tech or Lateral Entry B.Tech. programmes are created with working diploma professionals in mind. These courses will assist you in learning B.Tech while continuing to work. 
These programmes are developed with the most up-to-date industry-based curriculum to teach both practical and theoretical knowledge, making a student invincible after graduation with a B.Tech A bachelor's degree in engineering is known as a B.Tech. Engineering is divided into a wide range of topics. For all the job-seekers, B Tech for working professionals has come as a pleasant surprise. Candidates that want to advance in their professions without leaving their current position.
Aspirants are in desperate need of a b.tech for working professionals since it would propel their current job to new heights. B tech for working professionals was created with the present job market and needs of diploma holders in mind. It is a once-in-a-lifetime chance for them. 
Key Highlights of B.Tech Working Professionals
The program of BTech for Working Professionals is designed to keep the education needs and in accordance with the job domain requirements. 

To apply for BTech Working Professional, one must have passed a Diploma in the relevant specializations in which the student wants to pursue BTech. 

The Duration of Working Professional BTech is 3 years as it is pursued by the Diploma Holders in the relevant specializations 

Civil engineering, mechanical engineering, computer science engineering, mechanical and automobile engineering, and electronic and communication engineering are some of the specializations 

BTech for Working Professionals is a valid degree as it is approved by AICTE. 

The degree of BTech Working Professionals is according to the latest curriculum and all the latest advancements in the engineering field. 
Duration of B.Tech Course for Working Professionals
The b.tech for working professionals takes three years to complete the whole curriculum, which includes six semesters. Each semester lasts six months and includes a variety of courses ranging from the fundamentals to advanced levels of the technical curriculum. 
Because the students are coming from a Diploma program, they will be admitted immediately into the second year or third semester. Working professionals are awarded an extra year advantage in their career because their BTech is just three years long.
Eligibility Criteria for B.Tech for Working Professionals
B.Tech for Working Professionals is open to candidates who have completed a three-year diploma in any engineering stream. These diploma students are eligible for entrance to the second year of the engineering programme. As a result, they have a one-year advantage and can complete the course in three years. 
To enroll in B. Tech for working professional courses, you must first finish a three-year diploma in the same field. You just need a total of 50 percent in the three-year diploma. These programmes are developed with the most up-to-date industry-based curriculum to teach both practical and theoretical knowledge, making a B.Tech graduate impregnable.
B.Tech for Working Professionals Specialization
Tech specialty is available in a variety of disciplines; some of the most popular engineering specialisations are listed below:-
Mechanical Engineering: Mechanical Engineering is the study of machines, according to its true meaning. The study, design, development, research, building, and testing of any machinery, such as tools, engines, and machines, is the subject of B Tech Mechanical Engineering.
 Computer Science Engineering:  Computer Science Engineering is the study of the design, software, hardware, programming, computer language, and other aspects of computers. Algorithms, computing, programming languages, programme design, computer hardware, computer software, and so on are all studied in this field.
Civil Engineering: Civil Engineering is the discipline for those who want to create various built objects like buildings, bridges, dams, or roads and for infrastructure in their surroundings. Civil engineering concerns infrastructure companies
Electronics Engineering: The study of semiconductors and devices is known as electronics and communication engineering. Electronics and communication engineering is concerned with the research, design, fabrication, and analysis of semiconductors such as transistors, sensors, and microcontrollers, and others. 
Mechanical and Automobile Engineering: – The study of automobiles and how they work is known as B Tech Mechanical Automobile Engineering. The study, design, development, research, building, and testing of  Automobiles B.Tech For Working Professionals Career
Automobiles such as cars, trucks, buses, motorcycles, and any other vehicle powered by an engine is the subject of a B Tech Mechanical Automobile Engineering Degree.
B.Tech For Working Professionals Career
As you have done BTech you will be subject to a vast pool of jobs and profiles on which you can work. After Diploma your growth is restricted but the BTech for Working Professional certainly provides a kickstart to your stunted career. 
While Lingayas Vidyapeeth placements are a fantastic source of leads for the private sector, it never hurts to conduct your own research. The best place to begin is by registering with reputable job portals such as LinkedIn and Indeed to search for jobs that are related to your skill area and match your job profile preferences. 
Because India is a significant tech hub in the world today, multinational corporations (MNCs) from all over the world establish bases in India every year. In addition, home-grown firms are slowly sprouting across the country's key tech and industrial centers, including NCR, Pune, Gujarat, Bangalore, Chennai, and Hyderabad. Naturally, new job profiles are forming, and employment openings are increasing. As a result, the private sector holds enormous promise for recent B.Tech graduates.
Here are the best career opportunities after Doing BTech:
Placement on Campus 
If you don't want to pursue higher education, campus placements are the answer to your issue of what to do after B.Tech. Lingayas Vidyapeeth has the facilities and provides strong placement possibilities. Apply for the numerous placement opportunities on campus, but more importantly, prepare well for them. 
Apply for jobs that interest you while keeping in mind the engineering sector you are studying so that you can excel in your chosen profession. Campus placements for engineering students are increasing year after year, with substantial pay packages being given to applicants with a strong academic record.
Plan Further Studies with a Specialization with M.Tech
This option should only be chosen if you want to specialize further. The next stage is to pursue an M.Tech or MS by research degree with a concentration on the specialization you want to pursue and succeed in. Specialization will provide you an advantage over others later on, notably during job interviews.
Join PSU
Job at a government-run PSU, such as ONGC, NTPC, SAIL, BHEL, or HPCL,  has perks that are very lucrative. Though competition for these professions is fierce, they are certainly worth a shot. This exam is available to students in their last year of engineering.
Pursue MBA 
Another alternative after completing a B.Tech. Even among engineering graduates, management and business are popular majors. You may also think that, while you have technical expertise, it is important to educate yourself with managerial skills to assist you to advance in your job. Master of Business Administration (MBA) is the most popular and widely pursued programme in India, offering a wide range of opportunities. HR, Marketing, Digital Marketing, International Relations, Sales, and other specializations are also available.
Jobs After BTech Working Professionals
Mechanical Engineer:  Mechanical engineers provide requirements for new or updated mechanical components or systems, as well as design, develop, manufacture, and install them.
Automobile Engineer: An automotive engineer utilizes computer-aided design (CAD) to create innovative designs. Takes care of maintenance concerns, supply chain management, and mechanical system adjustments. 
Civil Engineer: Civil engineers work on small and big construction projects, planning, developing, and maintaining them.
Computer Science Engineer: A software system's design, development, implementation, testing, and maintenance are some of the tasks of a Computer Science Engineer.  Write code to create a software resource and look after its upkeep.
Electronics Engineer: Engineers are in charge of designing, assembling, and supervising embedded systems and linked circuits of electronics. 
B.Tech For Working Professionals Course by Lingayas Vidyapeeth
Lingaya University is one of the top institutions in Delhi. Under the UGC Act of 1956, it has been designated as a university. It has received accreditation from UGC NAAC, NCTE, and AICTE, among others. Lingaya University offers a b.tech for working professionals as well as a b.tech lateral entry programme.
FAQs
⭐Who can take admissions through b.tech for working professionals?
The programme b.tech for working professionals is open to anybody who has earned a diploma in the same field.
⭐B.tech courses for working professionals are AICTE Approved?
Yes, according to the new AICTE standards, all b.tech for working professionals courses are now AICTE certified.
⭐What are the jobs available after B Tech for working professionals?
Because it is a technical course with a high value and demand in the labour market, there are numerous employment opportunities for working professionals. You'll find plenty of opportunities at MNCs, PSUs, and even abroad. ISRO, DRDO, NIC, TCS, IBM, WIPRO, and more options are available.
⭐Can I do BTech with a job?
Yes, the AICTE has created a b.tech programme for working professionals as well as a lateral entry b.tech programme for diploma holders.