Which Is A Better Choice After B Tech – M Tech or MBA In 2023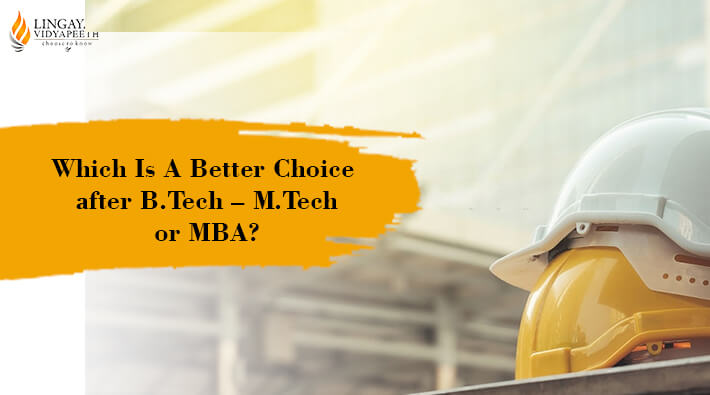 A student holds a B Tech degree after graduation from Engineering. This professional degree transforms a student into an engineer and makes him deserving of a distinguished career. For engineers with a good pay bundle and graduation, BTech unlocks a massive sea of opportunities. A significant number of students are also involved in completing their studies at the postgraduate level. M Tech and MBA are the two degrees that are deemed highest when it comes to higher grades.
Better Choice in MBA and M.Tech For Working Professionals
The explanation of why MBA or MBA For Working Professionals and MTech or M Tech For Working Professionals are the only choices sought after BTech is very justified. Each corporation needs both an MBA and MTech in a higher position to work properly, regardless of whether it is an IT company or a manufacturing company. The MTech owner is the company's technical advisor who oversees all-important technical decisions and implementations involving the company.
Though the MBA's other management matters are responsible, such as revenue, purchases, marketing, human resources, etc. But a programmer is still worried about what is achieved after the completion of BTech. Is it going to MBA or MTech? When deciding a single course, the argument never stops. Contrary to Satya Nadella, who studied both engineering and MBA in higher education, students usually prefer one higher degree. In young and energy engineers' heads, this issue raises a great deal of dilemmas.
Both degrees are equally important and will turn your career into a star. As all credentials are well positioned, the choice should be well judged and correct to ensure that the living standards are high. The two courses have to be evaluated SWOT so that you have a better idea of which course you want to pick. We will discuss each course individually to give you a clearer understanding of both. Also Read: Everything You Need To Know About B.Tech Lateral Entry
M Tech after B Tech
This course does not require an explanation to you because you know this is the technology master's degree. After completing the B Tech degree course for working professionals, MTech is a postgraduate degree. M Tech is a preparation course for engineers who want to undertake their professional training. M Tech is the next step after engineering for two years. M Tech offers advanced technical studies. In BTech, the entire program is split into separate subjects and the focus in M Tech is a single subject. This has allowed you to carry out the sophisticated and deeper engineered M Tech Degree program.
The M Tech course discusses both the theoretical and the practical application of your chosen specialty. One is a lucrative profession after M Tech graduation. Senior positions in the sector are available for M Tech graduates. The MTech distributes students to the position of top boss rather than being hired as a graduate engineering trainee. BTech holders' research in their specializations is the second explanation of why they use MTech.
Students who pursue the MTech continue with their specialization for doctoral graduation. MTech's program is split such that MTech is committed to scientific information for one year and the project work for the second year of the curriculum. It is of high significance for the MTech program as part of the curriculum in which students apply their knowledge of higher engineering to a live project.
Theses and articles must be accepted and written by the students to receive an M Tech degree. Let's look at the profession and potential that an M Tech person pursues after completing the M Tech course. An M Tech career holder is impressive and competent. When the pedigree is seen, MTech retains high frames. The explanation for MTech's importance is the extremely nuanced program requiring a study on your departments. This ensures that the program improves the process of reasoning to a stage where you can build your own future. Also Read: Admission Guidelines to M Tech for Working Professionals Program 2023
Let's look at the extremely prestigious choices after an M Tech Degree Program:
Doctoral study: You have ample confidence and the choice of obtaining a doctoral degree to launch your thesis. Continuing with PH. D is one of the better choices you have after M Tech Degree. The scientists obtain ample funds to continue their studies and to enjoy a decent life. Scholars in science shift each field's potential and thus have strong intellectual and social importance.
Entrepreneurship: After graduation in the technology market, you have a profound understanding of the technologies and the business in which you are involved. Since MTech is the market, you are also offered the viability, forecasting, and business model facets of the technology. Even, as M Tech graduates are highly qualified to make good entrepreneurship, capitalists invest in MTech graduates. Professors: In the master of technology, you should even cultivate young technology brains. In B Tech for diploma holder colleges, you will be professors. Professors are well paid and respected. You will still be in harmony with the subject as professors, and by creating the scientific temperament you will add to society.
Higher Position Jobs: In every sector, the market is packed with technology giants. For the future of the industries, any advanced company needs to have specialists in its businesses. The MTech students and the benefits of these firms are well compensated. You are relaxed and have the impression that you are building a future alongside a strong pay bundle. MTech primarily wants to turn its vision into reality for the R&D divisions. Also Read: What Is B Tech through Correspondence Mode? – Is it Valid?
MBA after B Tech Degree Course
When we learn of research and management and management courses so, MBA is the best option for you if you look forward to this region. Masters of Business Management refers to the course of many universities which is considered challenging and open. All over the world. All over the world. The key aim of the MBA program is to include specialized principles and practices required for business management. The MBA is the term inquiry. Management of the company at any point in the company.
The challenges in this fast-growing business landscape are banking, transparency, organizational and management marketing, and human resources. An MBA has become the advanced foundation of business learning. If you want to continue your professional and still want to get an MBA degree, a Distance MBA is an option for you. A beneficial career choice is for those who do not pursue a full-time MBA Curriculum because of multiple factors, such as economic constraints, working time, or even personal reasons. For those who want to boost their CV, MBA is the more viable alternative in this competitive industry. MBA develops rational and theoretical skills in the area of practice management.
MBA helps you to use in real-time all the analytical knowledge on the job. Today the majority of MBA colleges and institutes enable students to become profile in multinationals and the business world as portfolio managers, financial analysts, managers, and so on. In the field of business management, MBA specializations are significant. You should go to different sectors. Also Read: B Tech Distance Is Not Allowed by UGC.
A candidate is open while earning an MBA, to a broad range of opportunities in different sectors, including finance, marketing, insurance, banking, accounting, human resources, and other fields. MBA holds brand marketing posts, social media administrators, digital managers, consultants, and managers of industry experts. Financial Planner, Human Resources Managers, and General Managers are three of the better work profiles after an MBA. In the fields of international import and export, consulting, computer, transportation, and the telecommunications industries, MBA provides work opportunities. You open media, communications, and advertisements when you execute an MBA.
There is a dedicated placement cell in MBA universities that will allow you to make your dreams come true. Helix Tech, Vivo India, Aviva, Tata Connectivity, Bajaj Electricals, Michelin, HCL, and the Royal Bank of Scotland are among the leading distance recruiting companies for MBA graduates. The list of corporations goes on, and when you pick an MBA your career continues. As an MBA does not only raise your current salary and growth but also increases the opportunity for new business creation, you are fit to take up your post in government departments, PSUs, banks, and airports.
We spoke about both MTech and MBA and how they develop your technical skills.
MTech and MBA part or working professionals are the perfect options for professionals who want to gain a higher degree for their advanced career.