B Tech Lateral Entry (Civil Engineering) Course, Admission, Eligibility, Fees – Guide 2023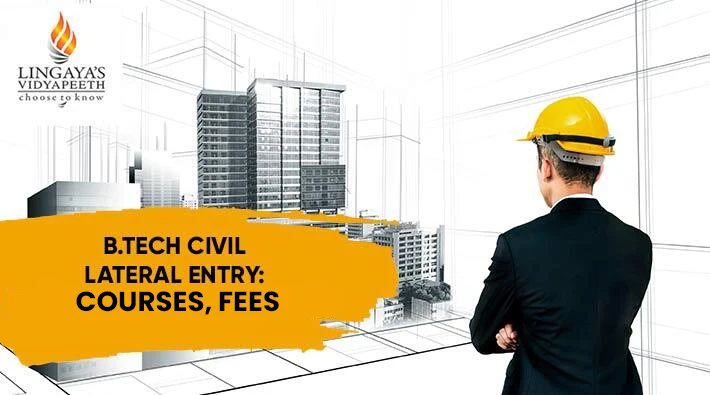 B Tech civil lateral entry is a curriculum designed particularly for experienced workers and diploma holders. It's effectively a three-year curriculum into which you can only enroll after earning a diploma. In this program, you will be admitted immediately into the second year of the BTech degree. B.Tech civil lateral entry is a highly sought-after course in the engineering profession. 
Candidates who have done a Diploma in Civil Engineering will always have the golden opportunity to raise their stake in the job world. B Tech civil lateral entry students have the chance to go for the executive post which can't be achieved with the Diploma Civil engineering is primarily concerned with the design of bridges, dams, buildings, roads, and other structures. Also Find: B Tech Lateral Entry Admission 2023
B Tech Civil Engineering is the field of engineering that contributes to all the infrastructural development. If you want to get rid of potholes and modify the building system, civil engineering is the greatest approach to learn and create a profession in it. Candidates working in such infrastructure organizations with Diploma as may pursue b tech civil engineering degree courses [Lateral Entry] and contribute to the development process through its framework. It provides possibilities for both the business and public sectors. A structural engineer is responsible for the design and building of roads, dams, walls, bridges, and other structures. Also Read: Which is Top B Tech Lateral Entry Colleges In Delhi NCR
Highlights for Civil B Tech Lateral Entry
Civil B Tech Lateral Entry has been designed for working professionals who cannot take admission in the Regular B Tech course.

BTech lateral Entry Program is a 3-year course. 

B Tech Lateral curriculum and curriculum are the same as regular BTech excluding the first year. 

B Tech Lateral Entry has been authorized by the AICTE so you will be getting a valid degree. 

The Civil BTech Lateral Entry program is designed to keep the newest industry technology and latest job-oriented curriculum in mind.
B Tech Civil Lateral Entry Eligibility Criteria
For your information, below mentioned are the qualifying criteria for civil engineering: – 
Diploma holders in the same civil engineering can take admission in the program for improved knowledge and ability.

Working professionals who have done a Diploma and begun working immediately after they have completed their Diploma can also take advantage of the program.

 There is no age limit for the course.
Civil Engineering B Tech Lateral Entry Duration
Civil Engineering Lateral Entry is a three-year curriculum. The course is divided into six semesters, with each semester including the whole Btech Lateral Entry in Civil Engineering subject. A semester is a six-month period. The Lateral Entry Civil engineering program is both fundamental and practical. Also Read: B Tech Lateral Entry Syllabus Course Wise
The Engineering Diploma's lateral entry program lasts three years since students are enrolled directly into the second year after finishing the first year's curriculum in the Diploma.
Lateral Entry BTech Civil Engineering Subject
The Civil Engineering B.Tech subject covers the study of science, management, and computer software in all civil engineering. The faculties develop the curriculum so that the curriculum matches the industry and society as a whole's present essential importance. Lateral Entry B.Tech Civil Engineering course that covers all types of concepts and practicals in order to improve consideration of industry requirements in areas such as structural engineering, environmental engineering and highways, knowledge and skills, and building management, etc.
B.Tech Civil Engineering Lateral Entry Career Overview
B.tech Civil engineering lateral entry opens for a variety of employment options during the course of one's career. It offers a diverse range of career opportunities in areas like as R&D, Design, Manufacturing, System Management, Land Surveyor, Civil Engineer Drafter, and so on, with TATA, Reliance, Honda, Punj Lloyd, Akme Projects Ltd, BGR energy system, Afcon limited infrastructure, and so on. Also Read: Everything You Need to Know About B Tech Lateral Entry
Civil Engineers Lateral Entry positions are available in government-sector jobs such as PWD, Electricity Boards, Indian Railways, and The Indian Army. Civil engineers are in high demand at PSUs like NTPC, ONGC, BHEL, IOC, and others.
Job Profiles from after BTech Civil Engineering
The fast expansion of infrastructure is underway in India. India. This creates great absorption opportunities for civil engineers. Currently, the market for civil engineers is divided into large demand and supply gaps. Many students were included in the following profiles in reputable firms. Also Find: B Tech Mechanical Diploma Holders
Roadway Engineering

Land Development/Site Design

Education & Teaching

Constructer Companies

Structural Engineer

Highway Engineers

Building Design 

Senior Design Engineer

Group General Manager

Technical Officer
B.Tech Civil Engineering Lateral Entry Placements
To help students accomplish their career goals, Lingaya's Vidyapeeth provides career guidance, counselling, and student professional development programs. Industrial visits, seminars, and guest lectures are all part of these development programs, which help students with their entire personality development, which is important for their future endeavors. Also Read: B Tech CSE for Diploma Holders
The University offers 6-month internships to final-year students and provides 100% placement help to all students. A second team, the IIDC (Industry Interaction Development Centre), has been striving to help our students accomplish their professional aspirations. To mention a few, Vidyapeeth Lingaya has excellent relationships with TCS, SAMSUNG, WIPRO, MAHINDRA, ICICI, INFOSYS, HDFC BANK, INDIAN OIL, KOTAK BANK, UT PUMPS, and SYNTEL.
FAQ
⭐What is b tech civil engineering lateral entry?
Btech Lateral Entry in Civil Engineering is a 3-year curriculum in which you are admitted directly to btech for the second year. It is designed for graduates and employees.
⭐I finished my civil engineering diploma. Can I in other states do my b tech?
Yes, if you have completed a degree in civil engineering, you may take a btech program in any country. The btech lateral entry program allows you to take in.
⭐What are the alternatives for a diploma in polytechnic civil engineering?
After completing a diploma in polytechnic civil engineering, you may choose numerous job possibilities as a diploma holder, design, drafting, examination, structural design, etc.
⭐I have graduated with a civil diploma, what may I select for my career?
Btech's lateral entrance into civil engineering is the finest diploma for civil engineering holders. In this course, you know the subject already and in just 3 years you may expand your expertise with a btech lateral entry program.