B Tech Lateral Entry Admission Eligibility Guide 2023-24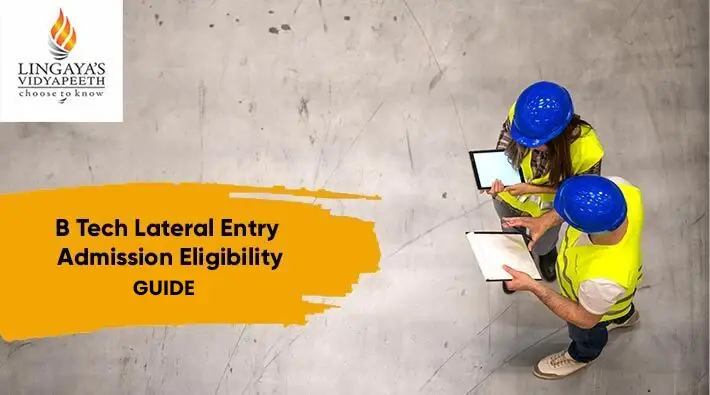 B Tech Lateral Entry has come like a boon for the Diploma holders and B.Sc (IT/CS) graduates. The program of Lateral Entry has helped the students to go for the degree that was technical and professional at the same time and was a turning pot for various candidates. 
Being the same in the value of regular B Tech only Eligibility Criteria of B Tech Lateral Entry makes it somewhat different from the regular. To quickly cover the B Tech Lateral Entry Admission, if you have the Diploma you are eligible to take admission in the B Tech Lateral. We will cover the B Tech Lateral Entry Admission Criteria in detail in this blog. 
About Lingayas Vidyapeeth
Lingayas Vidyapeeth is an essential alternative for all the engineering institutions offering lateral entry B Tech programs when you're seeking top-notch & up to date B.Tech Lateral Entry Programmes in India. Lingayas provides numerous courses in different fields, conveniently located in Delhi-NCR.
You may gain a range of abilities in computers, mechanical engineering, electronics, computer science, and a wide number of specialisations in the B.Tech Lateral Entry course. 
B.Tech also offers many chances for students to learn about their technical skills in the field of engineering. Applicants with a Technical Diploma and a willingness to progress in the technology industry can apply to B.Tech Lateral for direct admission.
Admission Procedure & Eligibility Criteria of B Tech Lateral Entry Course
Lingayas Vidyapeeth offers admission in 5 specializations which include Mechanical, Civil, Electronics, Computer Science and Automobile Engineering. The admission eligibility criteria for all the specializations is the same with a small difference in the computer science branch.
Let's dive deep into the admission procedure and eligibility criteria for this program:
After passing 10th grade, engineering diploma holders may apply to the B Tech Lateral Entry B. Tech programme. The B Tech specialisation will be the same as the Diploma one.

The B.Tech Lateral Entry in Computer Science Engineering can be requested by engineering Diploma holders following graduation. In the B Tech and Diploma the branch should be relevant.

The B Tech lateral entry programme can be applied for by professionals with a diploma currently working.

The B Tech Lateral Entry programme has no age limit.

B.Sc IT/CS students may also be admitted to the B Tech branch of computer science through lateral entry.
Key Highlights of the B Tech Lateral Entry Program
The AICTE has developed the Lateral Entry course for B Tech, which will act as a key program because it allows them to advance in their careers without leaving their existing employment. The B Tech Lateral Entry programmes permitted working professionals to further study and work simultaneously. This B tech Lateral Entry programme was equivalent to the regular B Tech programmes for curriculums, subjects, placements and faculty. 
Here are some of the Key Highlights of the Program: 
B Tech Lateral Entry programmes are particularly intended for individuals who cannot take standard B tech coursework.

Unlike the typical 4 year course, the course lasts three years.

B Tech Lateral Entry follows the same curriculum and Course structure as the regular B Tech  

B Tech Lateral Entry has been authorised by AICTE. UGC and NAAC have also approved Lingayas Vidyapeeth University.

The specializations offered in fields of B Tech Lateral programme include Mechanical, Civil, Electronics, Computer Science and Automobile engineering.
Duration of B Tech Lateral Entry Program
The course of the B Tech Lateral Entry program is of three years as compared to four years of the regular B Tech program. Being a B Tech of three years is the main reason for the popularity amongst the Diploma holders and the working professionals who have a Diploma. Find also: What Is the Course Duration of M.Tech?
As students cover the basics of engineering in the course of Diploma that's why the students are given direct admission in the second year of the B Tech Lateral Entry program.
Why B Tech Lateral Entry Programs for Diploma Holders
We want anything technological, as well as equipment that will make our life simpler. This is one of the factors students are increasingly choosing B.Tech Lateral Entry programmes. If you are looking for a career and have already earned your diploma, B.Tech Lateral Entry is the degree for you. B.Tech degree that equips students to work in the engineering sector and get real-world experience.
B Tech Lateral Entry is the career-defining degree for the students or the working professionals who want to progress in their careers at an accelerated rate. Although Lateral Entry is a 3-year B Tech, it has the same value and recognition as the regular B Tech. Every specialization has the same curriculum, regardless of being the lateral entry program. You know that the B Tech Lateral Entry is only for the Diploma holders, therefore you are accepted to the second year immediately. 
B Tech Diploma holders programs give you the head start in your career as you will be a year ahead when compared to the regular B Tech holders. Also, the industry has seen the trend that the secondary sector of the economy prefers candidates who have done a Diploma and B Tech because a Diploma gives you invaluable practical experience.
Some researchers think that Lateral Entry students can truly aid with the practical and key academic knowledge they have acquired via their diploma in engineering. This might be an additional benefit for students who pursue B.Tech in businesses such as electronic engineering, civil engineering and mechanical engineering.
Career Aspects After B Tech Lateral Entry
Each B tech course has the same value, according to the recent AICTE statement. Since B tech Lateral Entry or Lateral Entry-degree is flexible, the job choices after B tech are multiple and endless. Read Also: What Is the Average Salary of B Tech In India?
Let's see what you can accomplish with a degree in B Tech Lateral Entry: 
Jobs in top private enterprises: After finishing the B Tech, a student can work for top private enterprises hiring engineers. The employment profiles of engineers in different departments and specialities illustrate the opportunities that may be gained after working for a leading private firm. Companies such as TATA, Reliance, Honda, Hero, Maruti, Wipro & L&T are employed for engineering graduates.
Government engineer jobs: Several government departments include electricity boards, PWD, CPWD, Indian Railways and other post-engineering openings.
Public sectors jobs: like NTPC, ONGC, BHEL and others require engineers of various specialities. As a result, engineers in these fields are in considerable need and students in B tech for working professionals will have a good career.
In addition, students are able to pursue further education programmes such as M tech and MBA according to their wishes, following the graduation of B tech.
Conclusion 
As already stated the B Tech Lateral Entry can be easily pursued by the students who have already done a Diploma. Also, this course is most beneficial for the working professionals who are currently working and looking to go for executive positions. Lingayas Vidyapeeth provides the Lateral Entry courses in Mechanical, Civil, Electronics, Computer Science & Automobile engineering. Also Read: Which is Top B Tech Lateral Entry Colleges In Delhi NCR
Lingayas Vidyapeeth has a robust academic structure with state of the art labs, highly decorated faculty and an advanced learning management system. 
Also, the students are provided with placement assistance in top companies that help students directly gain jobs as they complete the course.
FAQ's
⭐How can I get admission to B Tech lateral entry?
Students must obtain a minimum of 50% aggregate marks in a 3-year diploma (Engineering – any stream) following the Class 10 board exam to be considered for B Tech lateral entry admissions.